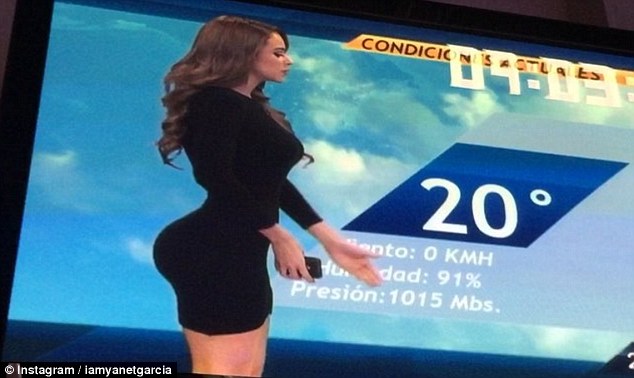 Yanet Garcia Mexican weather girl: 'The secret of my dizzy ascent is more than just my butt thanks …'
Debate has ensued (once again) as to whether Mexican TV weather presenter Yanet Garcia has tended to new butt enhancement measures after images of her derriere (once again) peaked curiosity.
Dubbed the world's hottest weather girl and shooting to worldwide fame when TMZ and Playboy described her as a 'girl that makes you want to watch the forecast' the 25 year old has since become a constant focal point.
Yet it's her latest appearance on Mexico's Televise Monterry news that have the pundits chattering away, who've taken to wondering if Garcia has had her bottom boosted after wearing yet another revealing risqué outfit.
Yanet Garcia photos: Mexican weatherwoman becomes internet (reddit) favorite
Taking note of the latest debate, the former model cum weather girl posted a video clip on her widely followed instagram page (1.6 million followers and counting thanks ….) which seems to have only intensified debate as to whether Yanet's latest 'developments' are the result of 'vigorous workouts' or as many assert, butt enhancing surgery?
Whilst many fans have come to be overjoyed with the Mexican weather girl's morphing, some have called her out.
Told one commentator: 'Sue your surgeon. He's botched this one.'
Offered Lynette Quintanilla: 'If this woman was a true professional she would pay more attention to her job and not her tight dresses.
'If she's well known it's because of her bottom not her work.
'What a shame that she takes pleasure out of the fact people speak about her butt and not how well she does her job.'
Others though rushed to Garcia's defense, insisting she was 'beautiful' with one viewer telling: 'I'm going to start watching the weather from today.'
Undeterred, Mexico's hottest weather girl has told in local interviews that her 'good looks' are down to 'good genetics', 'exercise' including boxing, jogging and the gym.
In the past, Garcia has described being a weather girl as a 'platform for me to make my dreams come true.'
Nevertheless despite her rise in the fame sweeps, Garica according to a report via the dailystar has spoken of her surprise that people find her instagram page interesting (do you suppose?), claiming that she mainly posts photos of her family and work.
While she has received interest from organizations from the UK, Canada and the US, Yanet maintains that her priorities remain with her job at the weather station.
Meanwhile, she continues to attract viewers worldwide, who have found a new love for the weather, leaving encouraging comments such as 'I didn't understand a word, but I'd watch it all again'. 
A photo posted by Yanet Garcia (@iamyanetgarcia) on
A photo posted by Yanet Garcia (@iamyanetgarcia) on