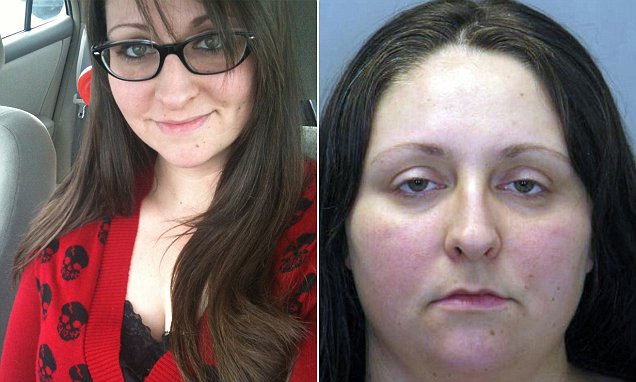 What motivated Nicole Veneroso a Delaware music teacher to abuse her authority and trust when she sexually preyed on one of her students? 
Nicole Veneroso a 32 year old Delaware elementary and middle school music teacher has been arrested for allegedly sending risqué images along with video to a 13 year old male student with whom she started a physical relationship with in December.
Upon her arrest, the infatuated teacher was charged with dealing in child porn, sexual solicitation of a child under 18, sexual abuse of a child by a person of trust, and endangering the welfare of a child, among others.
Matters first came to a head when the victim's mother in January found a number of explicit images and video of the teacher on her son's cell's phone, prompting an investigation.
At the time, Nicole D. Veneroso was teaching orchestra to fourth and eight grade students at Everett Meredith School.
A report via The News Journal revealed the teacher beginning a relationship with the victim in December, by which time the teacher had already begun sharing explicit images of herself with the child.
After the mothers disclosure, Appoquinimink School District suspended Nicole Veneroso, who also taught at Silver Lake and Townsend Elementary schools. The suspension came before the woman was formally charged.
At the time, Superintendent Matt Burrows informed parents that Nicole Veneroso was placed on administrative leave and was not allowed to enter school premises or have contact with any students. 
Burrows also recommended that families who had children taking private lessons with Veneroso outside of the classroom 'take the information under advisement,' according to NBC Philadelphia. 
At the time the nature of the allegations against Veneroso were only reported as misconduct toward a student.
According to the teacher's linkedln page profile, Veneroso offered private and small group lessons in violin, viola and the cello.
In one page advertising her music services, Veneroso states she is the Concertmaster of the Audubon Symphony Orchestra and first chair violin in the Newark Symphony Orchestra.
Not necessarily understood is why the teacher chose to abuse her authority and status of trust when she first reached out to her victim.
Also not necessarily understood is how the teacher was able to obtain the child's details, how she was able to continue reaching out to him, where they consummated their relationship and what other victims if any may also exist?
Veneroso is being held at Delores Baylor Correctional Institution on $53,250 bail.