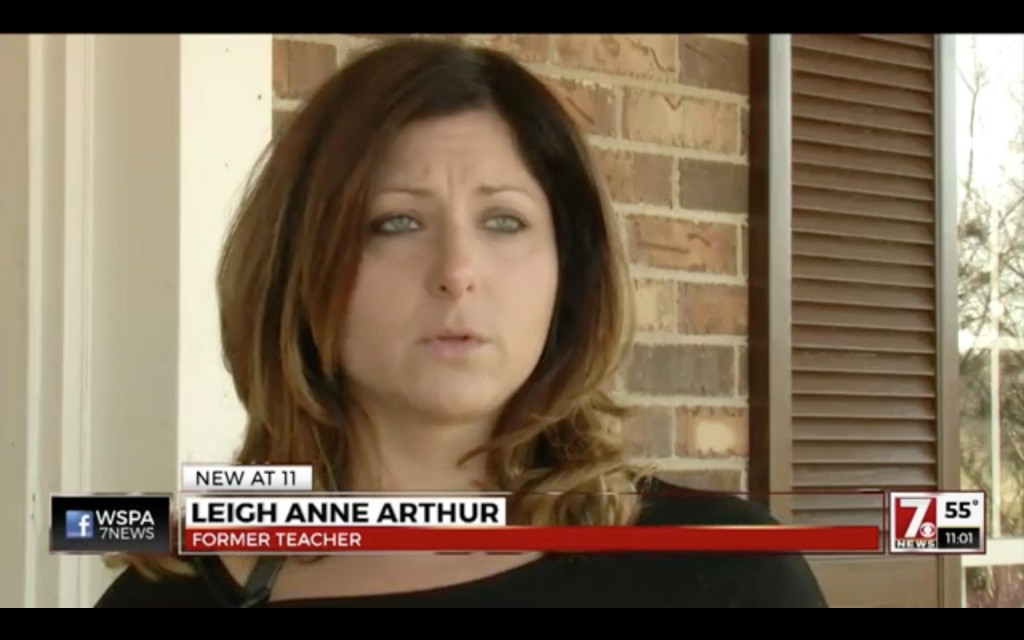 Is Leigh Anne Arthur a South Carolina teacher responsible for her own downfall?
Furore has come to the fore after Leigh Anne Arthur a South Carolina teacher was forced to resign after a student stole her phone and leaked risqué photos.
Since being asked to give up her post as a mechatronics teacher at the Union County Career and Technologicla Center, the married woman has argued that she shouldn't have been made to leave her post and in essence be held accountable for the student's theft.
According to a report via WYFF matters came to a head after the unnamed student (who has yet to be punished) stole the married teacher's cellphone whilst she was patrolling the halls and sharing the contents of said photos with other students and members of the school, leading to school authorities in demanding Leigh Anne Arthur's abrupt resignation.
A resignation that some have come to wonder was a knee jerk reaction to the risqué images on the teacher's phone rather than an explicit act or decision by the teacher to reveal said images on her own volition.
David Eubanks: 'Leigh Anne Arthur stop lying, it's your fault'
Leigh Anne Arthur student who stole teacher images charged
Leigh Anne Arthur petition. Will school back down?
Having taken risqué pictures for her husband on Valentine's day, the images which Leigh Anne Arthur had always intended to be personal and private led to her ouster courtesy of the deceit of one of the teacher's 16 year old students.
An ouster that has since led to some campaigning for the teacher's reinstatement, whilst others holding the view that the teacher shouldn't have never compromised herself to have ever allowed such images ever being risked seeing the light of day outside of herself and her husband.
Perhaps not ironically the images came to be disseminated after the student involved warned the teacher that 'something bad was coming,' in which then the student sent the images to other students through text messages and social media.
Speaking to media outlet WSPA. the teacher told of the involved student having told her that 'your day of reckoning is coming.'
With risqué images of the teacher floating on school campus, Leigh Anne Arthur had come to expect that school officials would side with her and would seek to hold the responsible student accountable.
In fact, anything but happened, with school officials instead choosing to take action against Arthur with the involved teen yet to be disciplined.
At the time, Arthur recalls being offered the following options: resign or have the district fire her.
Responding to the decision to force the teacher's hand, Union County schools superintendent David Eubanks conceded via The State that there was a 'right to privacy' whilst maintaining the view, 'when we take inappropriate information or pictures, we had best make it sure it remains private.'
Define inappropriate? And since when are images taken during the teacher's personal free time and outside of work, tantamount to a moral downgrade when said teacher never sought to openly disseminate such images in the first place? Or can one reason one is still negligent and responsible if they choose to metaphorically leave the car door open only to then cry foul when their automobile is later found stolen?
Since Leigh Anne Arthur's resignation last week, school officials have told of not being sure how many students viewed the teacher's images with Eubanks maintaining that the teacher's phone was unlocked when it was stolen. In essence holding her directly accountable for the incident.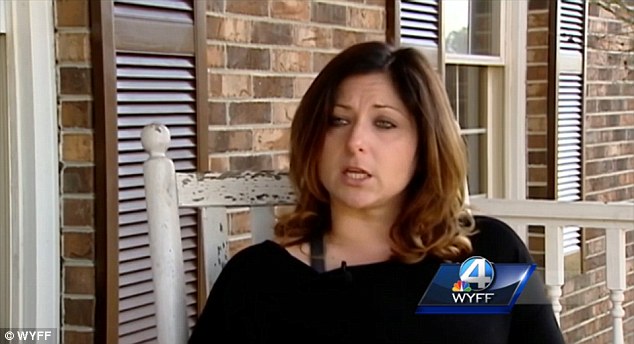 Despite having told she now forgives the responsible student, Arthur filed a complaint about the theft with the Union Public Safety Department. 
In her complaint, Arthur told the student 'took pictures from my phone and sent them from his phone'.
Adding: 'He knows right and wrong. He had the ultimate decision to take pictures of my pictures, and he had the ultimate decision to send them out,'
'He had to hit my apps button and to open up all my apps and then open my gallery.'
In a bid to bring the teacher back, three of Leigh Anne Arthur's former students have started an iPetition titled 'Bring Mrs. Arthur Back', to gather signatures to call for her reinstatement.
Reads the petition: 'After being escorted off of school property, we (the students) are left to believe that she has been forced to, or given little choice but to resign. 
'Mrs. Arthur has not only shown tremendous dedication to her students, but also the mechatronics program itself, often reaching out to local businesses and colleges to get materials that would not normally be available for class.
'With that being said, the student(s) responsible have not received any sort of punishment.
'The circumstances in which Mrs. Arthur was let go is unacceptable, and must be corrected.'
The petition currently has more than 421 signatures.
Arthur said parents and students are signing the petition to have her teach again and the amount of support has been overwhelming. 
What do you think? Should the school bring back Leigh Anne Arthur or is it enough to say that she is responsible for 'dressing like a tart' when she invited a rapist to molest her, figuratively speaking …..when she should have known better ….?