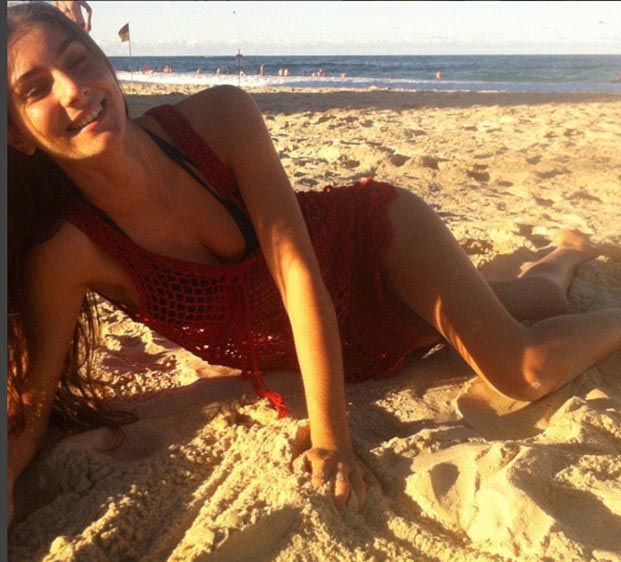 Has Josephine Georgiou been blessed by the touch of Madonna? Or damned? Debate rages as calls to sue Madonna whilst one teen remains in bliss.
Whilst many wondered if pop singer Madonna went too far when she exposed a Brisbane fan's breast after asking her to come up on stage, the 17 year girl in question, Josephine Georgiou has in turn defended the pop icon, saying it 'was the best moment of her life.'
Meet Gold Coast barista and aspiring model Josephine Georgiou, a 17 year old teen who until a day ago was ostensibly a nobody (sorry Jo…)  until Madonna plucked her on stage and since catapulting her on a world forum. 
With accusations of sexual harassment rampant (could you imagine the tumult if say Mick Jagger had attempted the same stunt), Georgiou has in turn rebuked detractors, mocking suggestions she may now sue Madonna, choosing instead to defend the pop goddess.
Told Josephine Georgiou via the Courier Mail: 'Seriously, why would I sue Madonna for the best moment of my life.'
'It was the best night.'
Adding: 'She was calling me a Victoria's Secret model the whole time I was on stage, which is so flattering.'
Needless to say a video of Madge ripping at the teenager's top to expose her breast has gone world viral and in the process making one big eyed dreamy Brisbane girl a sudden real player.
How easy was that Jo?
Of course Jo can thank her mom's corset for being way too big, which led to Madge catching sight of the aspiring model as she took to adjusting her corset and being called up on stage.
Raged Madge: 'She's the kind of girl you just want to slap… On the a–… and pull.'
Asked if she ought to feel offended the Brisbane teen responded:
'It's hilarious to me how much of a big deal it is to everyone, people just need to understand I was on stage in front of Madonna, I was looking her in the eyes and most people would just melt into a pool on stage, so it was only because I was standing in front of her that I looked so surprised.'
Which is to wonder does cult and star status give one a pass to behave without decorum or bereft of proprietary?
Reiterated Georgiou: 'Only I get to decide if I'm humiliated or not – why would people assume I am humiliated by my own breast, nipple or body?,'
'I didn't realize my boob was such a big deal – it was nothing to me.'
While Josephine Georgiou may be thanking her lucky stars (do you suppose it will lead to any modeling offers?) not everyone has been equally elated. Case in point UK commentator Piers Morgan who has since implore Madonna to cancel her Rebel Heart tour cause Madge is having a meltdown. Which as a matter of fact she is.
Tweeted the outspoken Morgan: 'Madonna is in total meltdown. She needs to cancel this tour asap,'
The good news is that Madge's tour ends on Sunday at Sydney's Allophones Arena, of course one can't help what stunt Madge may want to pull off this time round before leaving the shotes of Australia for once and for all….
For more on Jo, go here