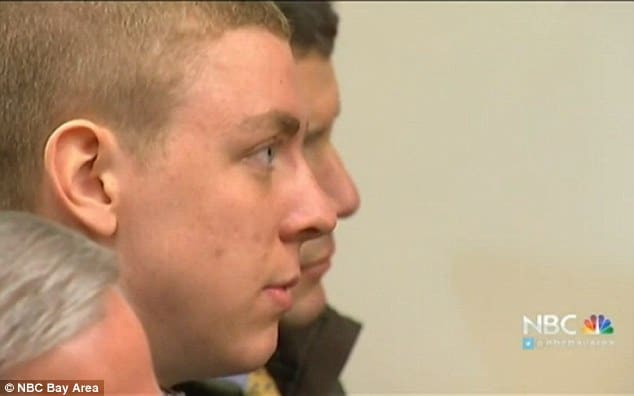 What led to Brock Turner an elite Stanford University swimmer sexually assaulting and raping an unconscious woman? What informed him doing so would be fine? A campus culture of rape?
Brock Turner a 20 year old Stanford University swimmer was on Wednesday found guilty of three counts of sexual assault after raping a 23 year old drunken unconscious UC Santa Barbara graduate.
The man's verdict came after a Palo Alto, California jury of eight men and four women deliberated for two days before deciding to convict the elite swimmer at the ivy league college.
Turner, from Dayton, Ohio now faces up to 10 years in prison when he is sentenced on June 2. 
Whilst the man's fate had been read, Turner was noted looking away while his mother wailed and stomped her feet. Meanwhile according to a report via the dailymail, the victim smiled and then started to cry. 
Overboard reaction? Leslie Rasmussen Good English gigs cancelled cause of letter supporting Brock Turner
Carl-Fredrik Arndt: Brock Turner's rape victim was unconscious the whole time
Brock Turner father pathetic defense of Stanford rapist son explored
During proceedings, Brock Turner admitted fondling the unnamed victim – a 23-year-old UC Santa Barbara graduate who lived in Palo Alto, while always denying that he raped the woman. 
The athlete was arrested around 1am on January 18, 2015  when two graduate students bicycling on campus saw him on top of a woman who wasn't moving in the bushes outside of the Kappa Alpha fraternity. 
The two students pinned then 19-year-old freshman to the ground when he tried to run away and then held him until police showed up.
Offered Lisa Lapin via NBC Bay Area: 'We are very proud of our students who saw something that was not right and intervened, and then followed through with the investigation and through the trial.'
When police arrived on the scene, they found the victim unconscious on the ground with her underwear beside her. She did not wake up until hours later at the hospital. 
The victim told police that she drank about four shots of whiskey before heading to the frat house for the party, and that she drank vodka when she got to the house.
Of note, when the victim woke up in the hospital she told of not recollecting the attack when a sheriff's deputy told her she may have been the victim of sexual assault. 
It wasn't until medical tests came back indicating that the victim had been violated.
A sexual assault response team nurse testified that the woman suffered abrasion on her buttocks and internal abrasions in her private area. Turner also had abrasions and soil on his arm, hands, ankle and back. 
The victim had three times the legal limit of alcohol in her system at the time of the attack. Since she was black-out drunk, she was by default unable to consent to physical intimacy. 
Brock Turner, on the other hand, had two times the legal amount of alcohol in his system, but testified on the stand that he was able to walk and talk normally. 
He told the jury that he and the victim agreed to go back to his dorm room and that she was a willing participant when they consummated outside the fraternity party. 
Prosecutors described Turner as the 'quintessential face of campus sexual assault' as they implored the jury to look past his youthful looks and judge him based on the shocking evidence. 
'No means no. Drunk means no. Passed out, unconscious means no, and sex without consent means criminal assault,' Santa Clara County District Attorney Jeff Rosen said.
In high school, Turner was a three-time All-American swimmer. He had ambitions of swimming in the Olympics, but withdrew from Stanford after his arrest. 
He remains free on $150,000 bail. 
He pleaded not guilty last year to the three charges of assault with intent to commit rape of an intoxicated or unconscious person, sexual penetration of an intoxicated person and sexual penetration of an unconscious person. 
Ex #Stanford swimmer found guilty of sexually assaulting woman outside frat party. Victim sobbed as verdict was read pic.twitter.com/OOK17gsfcD

— Lilian Kim (@liliankim7) March 30, 2016