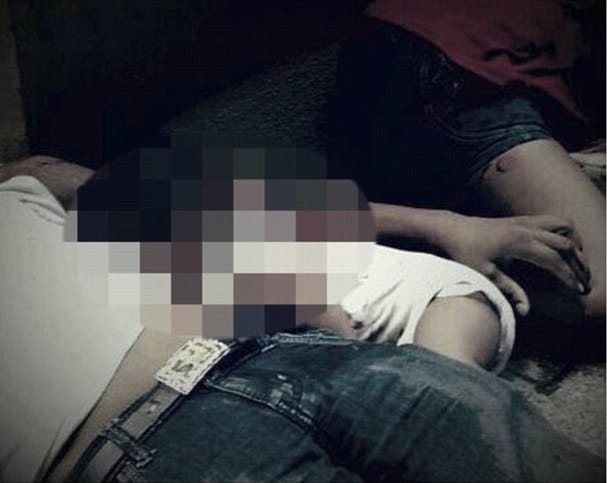 How the drug related slaying murder of seven month old Mexican baby Marcos Colon led to a nation looking into its own soul.
Locals in Mexico have expressed outrage after news and disturbing images following the slaying of seven month old baby Marcos Miguel Pano Colon along with his parents at the hands of fueding drug cartels.
The horrific death of the boy along with his parents came as the family came to be caught up in sudden gunfire in the city of Pinotepa National Friday evening.
Local reports of the death led to social media commentators comparing the boy's death to that of the drowned refugee Syrian boy, Alan Kurdi whose photo made world headlines after the toddler's body washed up on a Turkish beach.
At the time of the boy's murder, Marcos Colon and his 24 year old father, Juan Alberto Pano Ramos along with the boy's 17 year old mother, Alba Isabel Colon were making their way when attackers opened gunfire on the trio, killing all three instantly.
Photographs of their bodies notes a report via the dailymail soon began to circulate on Facebook prompting users to ask why violence in the country had been allowed to spiral out of control.
Going viral is a picture focusing on the slain baby in a bloodstained white onesie, lying head down between his father's torso and left arm.  Marcos Colon's mother, wearing denim shorts and a red blouse, lies in the background.
¿Y la indignación por Pinotepa Nacional ?Los mexicanos pareciéramos más compasivos por otros que por nosotros mismos pic.twitter.com/8hIo5KWQb7

— Personal Jesus (@jes_yosoy) January 31, 2016
Santiago Pinotepa Nacional Oaxaca, a Facebook page focusing on the city's events, posted an image of the murdered family and likened baby Marcos to Alan.
'This picture is running all around the world. It is just like the Syrian boy,' the post read. 'Pinotepa Nacional became famous last night, not from an earthquake, sadly, but because of this image.'
One comment read 'There should be no likes for this image. If you must, it is better to have many or millions of comments of sympathy, and [comments of] contempt for the cowards who did this and the ineptitude of the federal government.' 
The page also posted what it claimed was a photograph of Marcos before the shooting, showing the boy bathing.
Solo Acapulco, a Facebook account dedicated to promoting the Mexican resort city of Acapulco in neighboring Gurrero state, posted a cropped version of the same photo, focusing on Marcos. It also mentioned Alan Kurdi. That post at time of publishing has been shared 52 ooo times and liked 20 000 times.
Accompanying the image was this message: 'Do you remember the Syrian boy? Do you remember how indignant you were, and how you put your flag on Facebook? Because this is what happens in Mexico, to be precise in Pinotepa Oaxaca, where drug traffickers killed this family, including this little angel of seven months.'
Reflected one commentator, Roxana Yarani Añorve: 'This is our sad and terrible reality: that we live in a rotten country, where our independence from foreign powers did not help us much, where we are now our own tormentors… today we are cowards and allow this pass… the laws are just for show.' 
Users on Twitter using the address, @jes_yosoy posting up a direct comparison of the two children and writing 'And the outrage in Pinotepa Nacional? We Mexicans are more compassionate about others than ourselves.' 
@Pekelau_ wrote, '#PinotepaNacional has left me in shock. You hurt me Mexico, and yet we are surprised by Syria… Humanity has failed.' 
And @economiahot2012 tweeted the Mexican president, the governor of Oaxaca and information portal Hola Atizapan with an image of the Mexican flag superimposed over Marcos, saying '[they] protested the attacks in Paris but I do not see a statement on #PinotepaNacional.'
Offered author Octavio Martínez Michel in a blog post: That is why I am saying that we are facing an ethical distortion, a sort of selective ethics in which some injustices condemn vigorously, while others barely touch us. Of course, in shaping this reality play both selective policies of social networks, such as the media. Do not forget us, the top trending do not only with the citizens' initiative, but with strong media campaigns. But that does not mean that as a society, we play the game of discretion ethics .
A memorial was held for the slain family in Pinotepa Nacional on Monday, with hundreds, including many children, attending to light candles, pray and sing with images and video of the ceremony spreading online.
Police have since told of detaining four people in connection with the murders, which were gang-related.
Officials said that Juan and Alba were targeted by the gang for selling drugs. 'A rival drug gang from [the neighboring state of] Guerrero located them and had them riddled with bullets,' a prosecutor said.
Gang violence is rife in some areas of Mexico. The Trans-Border Institute at the University of San Diego, which analyses crime in the country, says that from 2006-2012, the total number of homicides in the country could have been as high as 125,000.