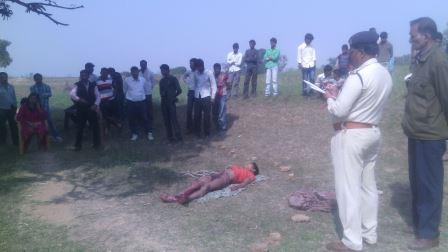 A woman in Bhopal, India has chopped off her brother in law's genitals and handed them as evidence to police after allegedly being raped.
The 32 year old mother of three, identified as Vimlesh Koul, stunned police officers as she walked into a local police station in the Sidhi district of Madhya Pradesh, holding the severed organ of 22 year old man, Sanju Koul.
Accompanied by her children, the woman told police it was the only way to stop her brother in law attacking her.
The attack, told the woman took place whilst staying with her brother in law as her husband worked more than 700 miles away, in Nashik, Maharashanta.
During her affidavit the woman told she had no recourse after the man assaulted her 'many times.'
A relative later told that the man had been influenced by other men he had associated with.
According to a report via the Times of India, the woman hacked off her brother in law's genitals after 'faking' consent when the man attacked her, using a sickle to dislodge the man's member.
But it gets better.
Before police could offer the injured man medical support, the man had already committed suicide.
The brother in law's body was reportedly found hanging from a tree nearby the house.
Said town inspector, Churhat, Arti Chourate via the hindustantimes: 'He allegedly committed suicide because of humiliation…Her parents-in-law didn't come to know about the incident as the entire incident took place early in the morning and also because Sanju didn't make any noise.'
The incident led to outcry after the woman was charged with attempted murder, with many arguing the woman had only acted in self defense. Others maintained the woman had no choice, holding the view that police would have done little had Vimlesh Koul reported the incident, especially in light of a prevailing attitude of antipathy towards women and many instances of abuse, including unrelenting rape. 
Reiterated the town inspector: 'The accused woman is shaken…due to the entire episode. She is presently in the village. We have registered a case against her under section 307 and will soon take her in our custody.'
Offered Sidhi police spokesperson, Abid Khan: 'This is a rare case and has to be investigated for a proper charge sheet.'
Police said the woman is mentally stable and does not regret her actions.
The incident follows that of another instance in which another man's private parts were chopped off last week. On Wednesday, a 24-year-old man in Bhopal was allegedly sedated and castrated by unknown eunuchs.