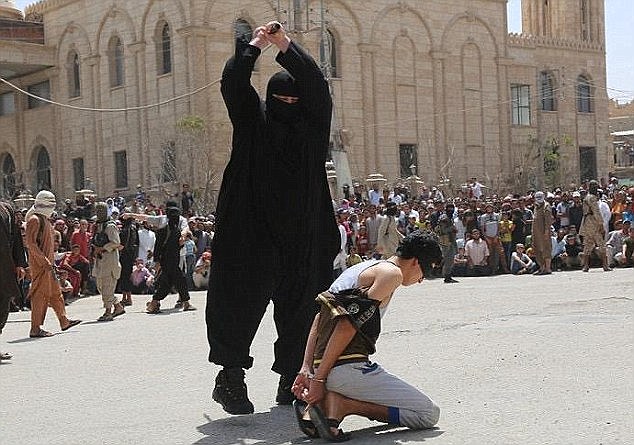 Ayham Hussein, a 15 year old Iraqi teenage boy has been beheaded by ISIS after caught listening to Western music.
The teen's public execution in the terrorist group's capital of Mosul comes after the teen was arrested whilst allegedly enjoying pop tunes on a portable CD player.
Appearing in front of a local court, Ayham Hussein was promptly sentenced to death.
Told a spokesman for the Nineveh media centre told ARA News: 'Ayham Hussein was captured by the jihadis while listening to pop music at the grocery store of his father in the Nabi Younis marketplace in western Mosul.'
His body was reportedly handed over to his family on Tuesday.
NSFW: ISIS Libya executes three, whips three for drinking, blasphemy
Who is Jihadi Junior aka Isa Dare? Stars in ISIS video
The execution, thought to be the first for listening to music in the city, has sparked outrage among locals. 
Reiterated the source: 'There was no formal decision by the sharia court that bans listening to western music.'
The latest execution and dissemination of comes in the latest of public relations coup for the Islamic fundamentalist group as it seeks to force followers and captive towns to adhere to a strict medieval teaching of the faith in both Iraq and Syria.
To date the group's policies along with the public execution of opposition soldiers fighting against the group comes as ISIS continues to take a hard line against individuals for blasphemy, women thought to be dressing inappropriately as well as stoning and pushing men believed to be homosexual off tall buildings.
In a statement two years ago cited by the dailymail, the terror group also banned 'music and songs in cars, at parties, in shops and in public, as well as photographs of people in shop windows.'
It added: 'Songs and music are forbidden in Islam as they prevent one from the remembrance of God and the Koran and are a temptation and corruption of the heart.'
The terrorist group continues to flourish despite Western rhetoric that the group must be taken down as increasing resources are once again diverted to the oil rich and oppressed Mid East region.
Video: ISIS blows up three people bound to Palmyra columns in new execution
ISIS tank execution video: 19 year old Syrian army prisoner crushed to death
Video: ISIS kills 2 Libyan spies dragging them behind truck
Tomislav Salopek photos: ISIS wanted $30 million ransom.
NSFW: Tomislav Salopek beheaded by ISIS as ransom deadline expires
Video: ISIS executes ten prisoners by forcing them to kneel over bombs
Cubs of Caliphate Video: Ten year old ISIS child beheads Syrian army officer
NSFW: ISIS execution video shows prisoners in mass graves machine gunned to death