Carolyn Wright has been arrested after biting off a Walmart worker's finger off whilst shoplifting condoms, two pairs of panties, a bra along with lubricant.
The former stripper's arrest interestingly comes after an earlier episode last year in which she was was convicted  of striking a fellow strip club employee over the head with a stilleto shoe. 
Carolynn Wright, South Carolina stripper beats co worker with stiletto
According to a police report obtained by the smokinggun, the woman became violent after she was caught stealing from a Walmart store in Myrtle Beach, South Carolina on Sunday.
At the time, Walmart loss prevention officers, Candice Lawsom and Suzanne Koseroski followed the suspicious acting woman out of the store, where they attempted to stop her from taking off with her illicitly gained bounty.
A scuffle erupted between the three women, during which Wright allegedly punched Koseroski in the head, causing her to bleed from the ear.
Pause, try to imagine this all in your head, the sexy smirk of Caroline Wright intent of getting her own way.
Continuing: it is then that our collective hero is alleged to have bitten Lawson's hand.
Yes kids, close your eyes, imagine the pain pouring out of Candice Lawsom's mouth, the minimum dollar wage the dream job experience she always looked forward to.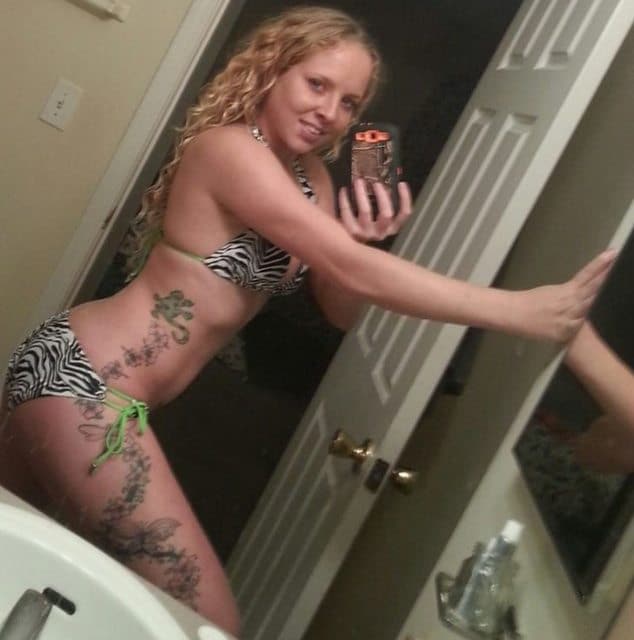 With the employee refusing to let go (isn't minimum wage great kids?) our collective ray of hot sunshine purportedly then bit off a piece of the woman's finger off. The finger tip was later discovered by police.
But it gets better kids. Put on your 3-D special effects glasses on…
When a customer who witnessed the altercation tried to call 911, Wright in turn grabbed the woman's phone and began pulling her hair before getting punched in the face.
Ka-pow!
A man who was waiting in the parking lot in a minivan told cops Wright then ran up to him and told him to 'run.'
When the driver told Wright that he couldn't move because someone was standing in front of his van, Wright yelled at him to 'drive!' 
Are you shivering with anticipation kids?
Despite getting away, cops soon caught off with the condom and lube bandit who only succumbed after being threatened with a Taser.
Of question is whether the driver of the minivan was an acquaintance of Wright's.
The weekend episode left the Walmart employee needing to have her finger getting stitches with medical teams unable to reappear the woman's finger tip.
And the value of Carolyn Wright's treasure bounty you wonder? A massive haul to the tune of $40.07. 
Isn't it time you won yourself a sexy extended stay at the public locker room too…?