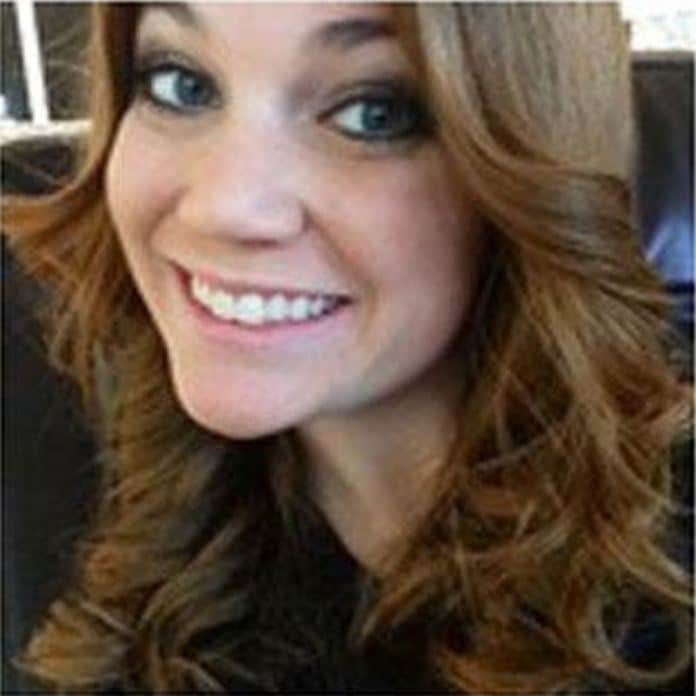 Virginia Houston Hinckley a married Florida teacher has been charged with having unlawful sexual activity with a 16 year old minor student at St Augustine High school. To boot, a social media post has indicated the woman is now expecting her first child.
The woman's booking comes the 26 year old woman turned herself in to cops, with the 9th grade English teacher being released from jail hours after posting a $10K bond.
The revelation of her pregnancy according to a report via the ActionNewsJax.com.  came after a family member shared a photo showing the teacher, a man believed to be her husband and their pet bulldog (of course) posing with a sign that read: 'Coming May 2016.'
The idyllic family portrait was also accompanied with the relative writing she could hardly wait for the baby.
Of question is the baby's biological father, with questions as to whether the woman became pregnant after preying on the 16 year old student at the school where Hinckley taught.
The woman's legal forays come after the St Johns County Sheriff's Office launched an investigation after allegations that the English teacher was having sex with a 16 year old student in her class.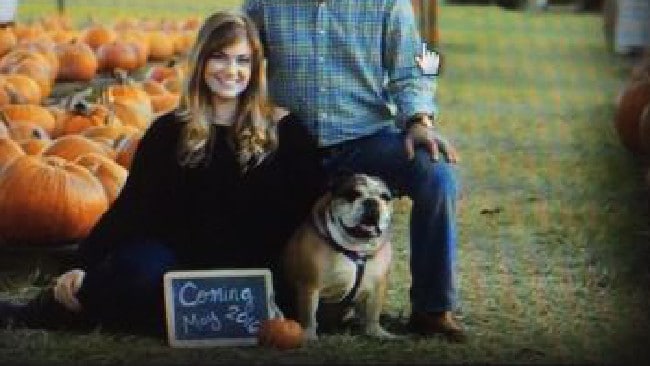 According to WJXT-TV, detectives interviewed witnesses and obtained search warrants to compile evidence in the investigation.
The warrant stipulated that the student initially asked for Hinckley's phone number. She said no, but the following day when he asked again, she gave it to him and told him not to tell anyone.
The two began exchanging text messages, including nude photos, according to the student. He said Hinckley sent him photos of her breasts and other body parts,
The student would often go to Hinckley's classroom after school, and when they were alone one day — on or around Aug. 18 — they began kissing and touching. She suggested that they go to Treaty Park, on Wildwood Drive, and she followed him there.
The timing of the illicit affair raises questions whether the teacher was already pregnant or became pregnant after consummating with the student, with the woman's expected birth in March of 2016.
Pursuant to a lengthy investigation, the case was turned over to the State Attorney's Office, which issued a warrant for Hinckley's arrest on November 25 and the woman shortly handing herself in.
According to the school's website, Hinckley is a ninth-grade English teacher and a ninth- and 10th-grade intensive reading instructor.
A graduate of University of North Florida, the 26-year-old was hired by the school district in August 2013. Prior to that, she had worked as a waitress at California Pizza Kitchen, as her LinkedIn page indicates.
Reacting to the scandal, Lisa Preble, the mother of a St. Augustine High student told WJXT-TV:
'It's devastating,'
'You hear it on the news at other schools. You hear it across the country that these things happen, but for it to be in literally walking distance to your backyard, it's horrific.'
'We need to be responsible to make sure that the teachers that go in to teach our children are background-checked and constantly reviewed to make sure they are going to be the proper people for our children.'
At present it is not necessarily understood if the teacher preyed on other students and why for that matter she usurped her position of authority and dominance over her victim?
Hinckley is understood to be on paid administrative leave since late October. A further board meeting is to be held on December 8.