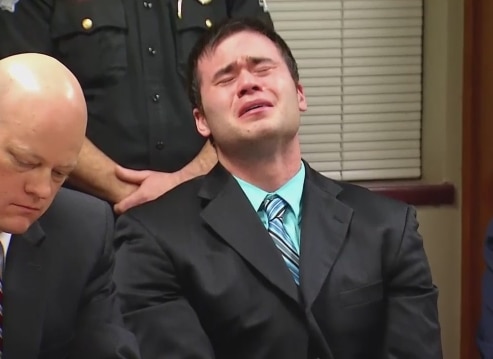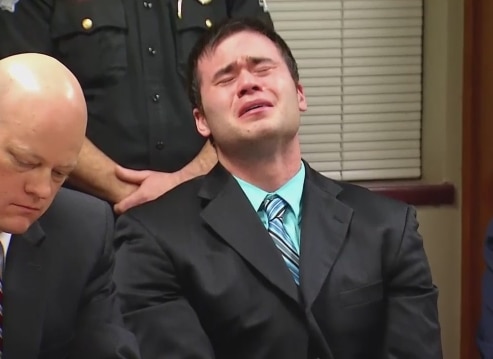 Daniel Holtzclaw, 29, a former Oklahoma City police officer has been found guilty of raping at least 13 black women including teenagers and a grandmother in the neighborhood he patrolled.
The man's guilty verdict comes at the hands of an all-white jury of eight men and four women on Thursday evening after four days of deliberations.
As the ex cop was found guilty on all 18 counts against him, including rape, sexual battery and other charges, Hoytzclaw broke down in tears. His supporters also sobbed as the judge went through the verdicts.
The ex cop now faces a recommended 263 years in prison and is now set to be sentenced in January. 
Assistant District Attorney Gayland Gieger told the court that Holtzclaw preyed on vulnerable women, all African American, most with police records, he stopped while on patrol. According to testimony, the prosecutor's office told that the ex-officer intimidated his victims into not reporting his crimes. 
At 6-foot-1 and 260 pounds, the former Eastern Michigan football player was said to have used threats of violence and arrest to ensure his victim's silence.
A state of being that the ex cop had likely betted would keep his victims silent. Betting if his victims ever talked, the community wouldn't care. Once arrested and headed for trial, the ex cop banked on at least a majority white jury to absolve him.
#BreakingNews fired OKC officer guilty: rape, sexual battery & sodomy on 29th bday. Watch @FOX23 at 9. #Holtzclaw pic.twitter.com/um99fxRgWh

— ShaeRozziFOX23 (@ShaeRozziFOX23) December 11, 2015
Leading into this evening's verdict, Holtzclaw's lawyer, Scott Adams, told jurors Holtzclaw was an honorable but naive officer trying to help troubled women who lied about him, and made their credibility the cornerstone of his defense strategy.
Of note, Adams called just one witness, an ex-girlfriend of the officer, before resting his case.
A total of 13 women testified.
Since the trial began November 2, many of the women's descriptions had traced a similar arc: The officer stopped them while out on patrol, ran background checks for outstanding warrants or conducted searches that turned up drug paraphernalia, then forced them to have sex to avoid arrest.
Ranging in age from 17 to 57, all but one of the ex cop's victims were black with all living in the same poverty-stricken, predominantly African-American neighborhood in the northeast section of the city.
Most said they never reported the assaults to authorities for fear no one would believe them.
Contemplated a damning report via the dailybeast: They were picked because they were black and poor. They were picked because the perpetrator thought nobody would give a damn.
'What's the good of telling the police? What kind of police do you call on the police?' asked one woman, who sobbed as she testified Tuesday that Holtzclaw pulled down her shorts and raped her on her mother's front porch when she was 17.
For too many, living on the margins and with no real voice in the system, the unspoken answer is: nobody.
An expert would testify that the girl's DNA was found inside the crotch of Holtzclaw's police uniform.
Another victim was a fifty-something grandmother. 
Told Assistant District Attorney Lori McConnell during trial: 'He didn't go after doctors, lawyers, housewives, and schoolteachers in a white suburb. Holtzclaw targeted and preyed on women he thought no one would believe, women who didn't have the power to push an investigation or to demand his arrest.'
'Who will believe these women, and who will care?" McConnell said of Holtzclaw's attitude.
The vulnerability of victims was a common thread in a recent AP investigation that found about 1,000 officers nationwide had lost their badges in a six-year period for sexual assault and ex-related misconduct. 
Hundreds were convicted, but many others were never prosecuted.
During court proceedings, the defense attorney employed a strategy used by other lawyers who have successfully defended officers accused of rape.
Seeking to challenge the accusers' credibility, Adams cited witnesses's arrest records, any prior drug abuse charges, all the while searching for inconsistencies in their stories and questioning why most didn't come forward until police investigators approached them. 
He also noted that some had filed civil lawsuits against the city.
Told the lawyer in one instance against one of the witnesses during trial: 'You could have called anybody at 911 and said, 'Not only was I raped by an Oklahoma City police officer, but I have DNA evidence all over the place in my room'.
Responded a then 17 year old witness at the defense attorney's line of questioning: 'I'm really getting upset by the way you're coming after me'.
Prosecutors did not try to hide the witnesses' backgrounds, asking each about hers before Adams' cross-examination. They turned to relatives and friends who recalled the women telling them about the attacks. They also called police investigators and forensic experts to corroborate the women's claims.
After the first accuser came forward, police examined searches Holtzclaw made in police databases and data from his vehicle's locator device.
Detective Kim Davis, who led the investigation, testified GPS records showed, for example, that Holtzclaw was parked outside one woman's home for an unusually long time for someone he was supposedly dropping off. Davis described meeting with the woman four months later, and when Davis asked if the woman knew why they were meeting, 'She said, 'How do you know? Did he confess?' '
Holtzclaw's case has attracted attention from clergy and activists, who've been especially critical of the makeup of the eight-man, four-woman jury, which appears to be all white. Oklahoma court officials could not provide jurors' race.
Valeria Benabdallah, an Oklahoma City psychotherapist who attended part of the trial, said she was uncomfortable because jurors were being asked to judge a black female witness 'pleading for her innocence.'
Holtzclaw's sister and his father, a police officer in Enid, have been a constant presence during the trial, and other family members and friends have attended. 
One former high school football teammate said he was convinced of Holtzclaw's innocence. 'He's not that type of guy,' Jarred Benton said.
Told the lead detective in the case, Kim Davis after the guilty verdict: 'I feel horrible for his family. It's brutal, but I think justice was served'.
#DanielHoltzclaw targeted those women b/c he banked on nobody giving a damn about them. The jury said he was wrong. https://t.co/spz9KlOC9q

— Goldie Taylor (@goldietaylor) December 11, 2015
Even though #DanielHoltzclaw was found guilty, it's not a victory. His victims will suffer from his crimes for the rest of their lives

— Jasiri X (@jasiri_x) December 11, 2015
#DanielHoltzclaw guilty sentences: 8 years + 5 + 5 + 20 + 16 + 30 + 8 + 8 + 5 + 16 + 16 + 30 + 30 + 8 + 12 + 30 + 8 + 8 = 263 years

— TC (@tchop_stl) December 11, 2015
I'm interested in why guilty for some, not guilty for others. #DanielHoltzclaw

— Johnetta Elzie (@Nettaaaaaaaa) December 11, 2015