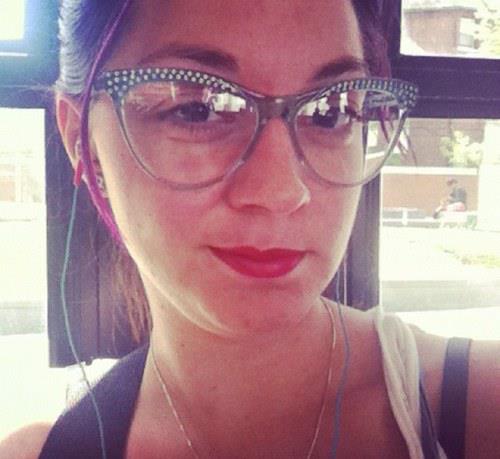 Britni de la Cretaz a 30 year old mother has told she is refusing to have sex with her husband until she learns how to enjoy physical intimacy for herself after years spent treating herself like a sexual object at her past partner's disposal.
The claim comes after the Boston based writer used to participate in various sexual acts with partners and act like a porn star in bed because she thought that was what men expected and couldn't say no.
In an essay for Cosmopolitan.com de la Cretaz writes: 'Growing up in a world that tells women that we are sexual objects, that wants us to know that our worth lies in how attractive we are to men,'
'I internalized those messages. I learned to see my value being measured by how many men wanted to sleep with me.'
Whilst most men would be ashen to be told sex is off limits, Britni has told her husband loves her and 'supports her 100 per cent'  
In her essay, the woman explains that in the past she used sex as a way to make people like her, cede arguments and even as a way to score drugs.  
'I've spent my entire life having sex for other people,' she writes.
Britni recalled feeling pressured to have anal sex for the first time and crying throughout the entire act, but after her partner gushed about how sexy she was and how much he cared about her.   
'So I believed him, and believed that his affection was conditionally attached to the things I was willing to do in bed,' she said. 
Britni said she continued to allow him to have anal sex with her because she thought it was consensual, but looking back she 'didn't know how to consent'.
Not only did her destructive behavior leave her 'incredibly traumatized', but she said she still doesn't know what it is like to truly want to have sex for her own benefit. 
'I'm sick of the messages that tell us we should do it for our husbands, to make them happy,' she said.
In her essay, Britni writes that her husband also wants her to be a sexual partner who is an 'active, invested participant', so he is helping her develop the boundaries that she lacked in previous relationships. 
Yet it hasn't being easy sailing. One episode recalls Britni splurging on a raincoat she loved when she and her husband were on a tight budget, explaining that she immediately though about seducing her husband by wearing nothing but the raincoat and heels in order to avoid a fight. 
Instead, she confessed what happened and learned that her husband understood and wasn't even mad. 
And while she hopes that she will one day desire sex for herself, she is unwilling to give her body away to anyone, even her husband. 
'So no, I won't have sex once per week "for my husband," because it's "good for our relationship." We'll have sex when we both want to, and our relationship is actually stronger than it's ever been,' she wrote.
Since we're talking about college, here's Halloween 2005. I "fucked like a bunny" this year. You're welcome. pic.twitter.com/UclyQxV4RM

— Britni de la Cretaz (@britnidlc) October 6, 2015
ICYMI, I looked bangin' today. pic.twitter.com/DgIKDqLN5W — Britni de la Cretaz (@britnidlc) September 19, 2015
Happy Halloween from the dlCs, all dressed up as our cat, Miss Claudia Schiffer. pic.twitter.com/2PXrTGiMoF

— Britni de la Cretaz (@britnidlc) October 31, 2015
And then there were these reactions on the web that caught my eye, see what you think?
Men and women have been taught that sex is about satisfying him. Good for her.
This woman obviously has unhealthy issues l, she clearly stated she did it for drugs at times… well that's called a barter system,
This really isn't about sex though is it?
The last thing I'd think to do to get in a more normal mindset sexually would be putting my feelings on the internet.