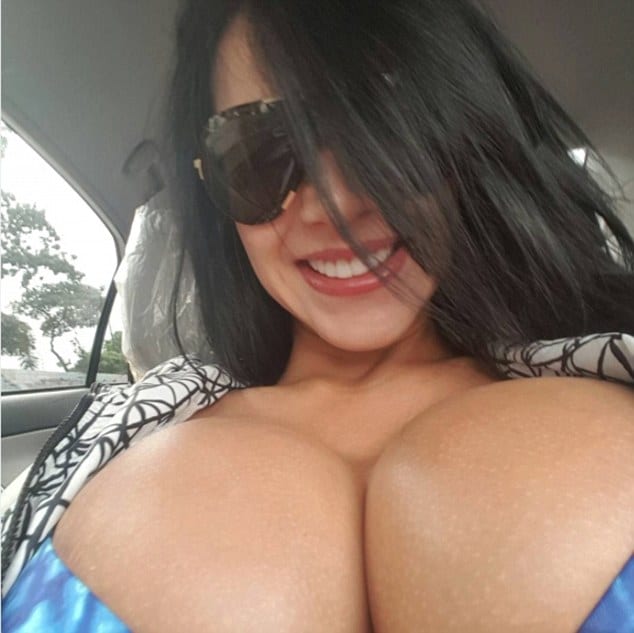 Aleira Avendano a Venezuelan model who has had more than twenty plastic surgery operations has told that all women need to go under the knife if they are to ever find true beauty.
In her arsenal, the self described Venezuelan beauty queen tells of having worn a corset for seven years in order to achieve her 'ideal' 20 inch waist along with 20 rounds of plastic surgery, including four separate breast enlargements, two nose jobs and a gastric bypass.
The 26-year-old now boasts enormous breasts, and a massive bottom, whilst conceding to the dailymail that she would go under the knife again, and that other women should too.
Told the 'beauty': I'm not worried about going under the knife,' she said.  'I will have whatever kind of surgery that makes me feel better about my body.
'Every woman should have plastic surgery if they want to be truly beautiful.'
Aleira is now pursuing her dream of making herself – and her body – world famous.
Her main Instagram account – she has several to keep up with the constant flow of selfies – has almost half a million followers.
On it, she shares daily pictures, mainly focusing on her burgeoning breasts. 
'My followers are very important to me,' says Aleira, who says that her boyfriend never gets jealous of the constant attention she receives from her online admirers. 
'Social media is the best way to get ahead for a model today and I love to post pictures of my amazing body online.
'I want to get as many followers as possible. The world needs to see my body.'
Yet not everyone is a fan of the model's 'better' qualities.
Told one commentator of the model's blow up breasts: 'How disgustingggg!' 
Criticism that hardly fazes her as she relishes in the attention her 'beauty' has garnered.
To date the Venezuelan model has already appeared in Mexican Playboy, traveled as far afield as Japan showing off her carefully crafted body along with appearing for countless local rags.
In her rise to stardom the model tells how she underwent the first of her breast enlargements aged 19, followed by the nose jobs and gastric bypass, as well as three rounds of 'biopolymer' buttock implants, a forehead-lift to achieve her arched eyebrows, neck elongation, liposuction, and even had her real teeth removed and had dentures put in her mouth to give her the perfect smile.
Reiterated the buxom model:  'It's all in the name of beauty,'
'I want to be known as the sexiest woman on earth'.
Adding: 'The first nose job was by far the most painful,'
'I couldn't post photos on Instagram for a month my face was to black and blue.' 
However, by Venezuelan standards, Aleira was relatively late in having of plastic surgery.
In the South American country, which prides itself on having the planet's most beautiful women, having won the Miss World pageant more than any other country, it is common to be given a boob job as a 15th birthday present.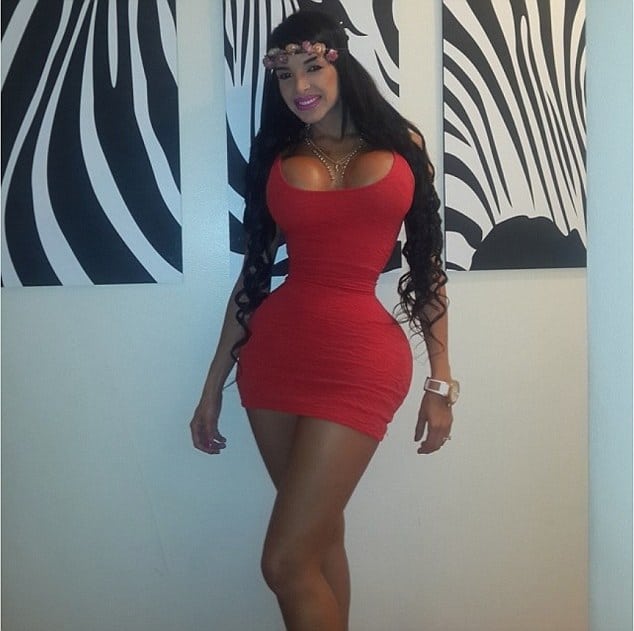 It's estimated that two-thirds of Venezuelan women between the ages of 18 and 35 have had breast-enlargement surgery, while a further twenty per cent have undergone buttock injections.
Yet not everyone is a fan of the methods that Venezuelan women adopt in order to 'discover beauty'
Told Mexico City GP Lilia Hernandez via the dailymail: 'A tight corset can have a disastrous effect on the internal organs,'
'It restricts the lungs and respiration, it causes indigestion in the stomach as it reduces its capacity to churn, it can cause gallstones and, in extreme cases, it can even displace the liver.'
 But warnings like this have not served to deter Aleira.
'The hourglass body is the image of the perfect woman,' she says. 'I've come as close as I can to perfection, but I'm still trying.' 
What do you think kids? Will Aleira ever find perfection?