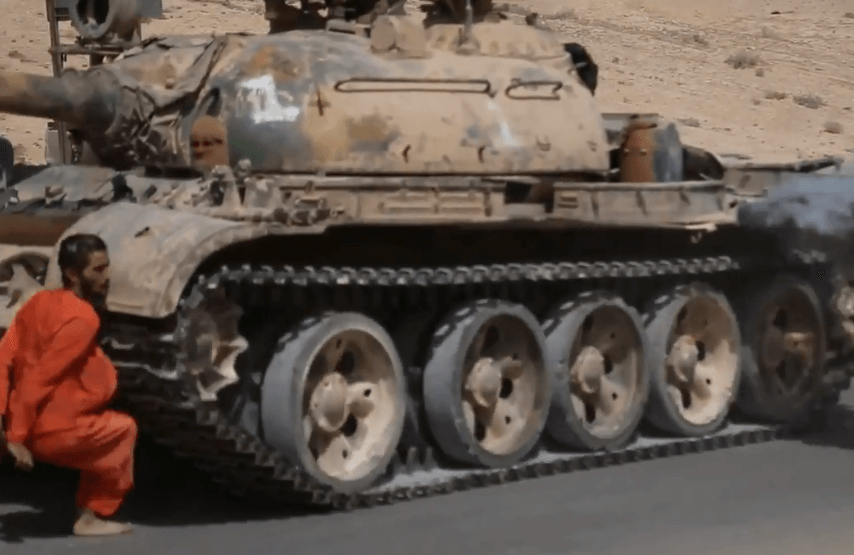 ISIS continues to up the ante with the release of yet again a new execution video, this time that of 19 year old Syrian Arab Army soldier, Fadi Ammar Zidan as he is crushed to death by a tank.
In new shocking film released by the Islamic terrorist group, a member explains why the Syrian prisoner is to be executed, before showing the man's execution in close horrific detail.
Receiving a copy of the video, The Syrian Observatory for Human Rights told:
'He said in his 'confession' that his name is 'Fadi Ammar Zidan' 19 years old and he is from the village of Sian in Jableh area in the northern countryside of Latakia, he also said in the 'confession': 'I joined the Army under contract with the Air Force Intelligence, and I registered the contract in the Airport of Hama, and they sent me to serve in the field of Sha'er, and stayed for the seventh month then they sent me to area named Jazl where I remained there four days then the Islamic State brought me, and I was in Jazl area and I was a tank driver, and I a used a tank to run over bodies of the Islamic State's soldiers'."
Video: ISIS kills 2 Libyan spies dragging them behind truck
Tomislav Salopek photos: ISIS wanted $30 million ransom.
NSFW: Tomislav Salopek beheaded by ISIS as ransom deadline expires
Video: ISIS executes ten prisoners by forcing them to kneel over bombs
Cubs of Caliphate Video: Ten year old ISIS child beheads Syrian army officer
NSFW: ISIS execution video shows prisoners in mass graves machine gunned to death
Video: ISIS children execute 25 Syrian regime soldiers at Palmyra
ISIS release drowning prisoner video: Foaming at the mouth
Photos: ISIS dangle gay man by his ankles before dropping him 100ft
Here is a baby sleeping beside handgun and grenade underneath ISIS blanket
NSFW: New ISIS execution video of 30 Ethiopian Christians emerges
Pictures: ISIS stones to death couple accused of fornication before marriage.
"@SyrianLionesss: Fadi Ammar Zidan, the #NDF soldier executed by ISIS. May your soul rest in peace pic.twitter.com/ESojR2PmL2"

— Mizanur Rahman (@mizanur2253) October 25, 2015
Standing over the kneeling prisoner, the ISIS member, his face partially hidden, explains Zidan will face the same fate he supposedly meted out to ISIS fighters, in accordance with Quranic verse (Sura 16, verse 126).
The bound victim standing in the middle of the road, in abject shock horror at what awaits him is seen hopelessly trying to hop away from the tank before being crushed under its tracks.
The 19 year old man's death leads to ISIS members celebrating behind as the camera hones in on Zidan's remains.
It is thought that the video was filmed in retaliation to a heroic raid by joint Kurdish-American forces in Hawija, Iraq last week, which saw 69 prisoners of ISIS set free.
Pictures: ISIS beheads three gay men in Iraq. Two were a couple.
Yemeni boy locked in cage and set alight in ISIS imitation by children.
ISIS throw off another gay man from top of building. Crowds cheer.
Next generation of ISIS video shows 5 year olds training learning how to kill
Pictures: ISIS mob drag three Syrian soldier corpses through streets
Video: ISIS beheads 21 Egyptian Christians in Libya.
Video: ISIS parades 17 Kurdish fighters in cages. Promise to burn alive
Video: ISIS execute Syrian prisoner shotgun point blank.
Video: ISIS behead man for witchcraft. Large crowd gather.
NSFW: ISIS burns captured Jordanian pilot alive video and photos
NSFW: ISIS throw man off roof for being gay then stone him.
NSFW: Female Kurdish freedom fighter Rehana beheaded by ISIS
How Jennifer Williams became the ISIS pin up girl. Blonde tattooed girl from Texas
Aliaa Magda Elmahdy, Feminist activist defecates and bleeds on black ISIS flag
Video: Exiled Iranian women pose nude to protest against sexual oppression
#ISISmediaBlackout: James Foley beheading. Should the media blackout ISIS propaganda?
ISIS orders female genital mutilation in Iraq. Girls from 11 and up
NSFW: Why is ISIS posting mass killing of Iraqi soldiers?