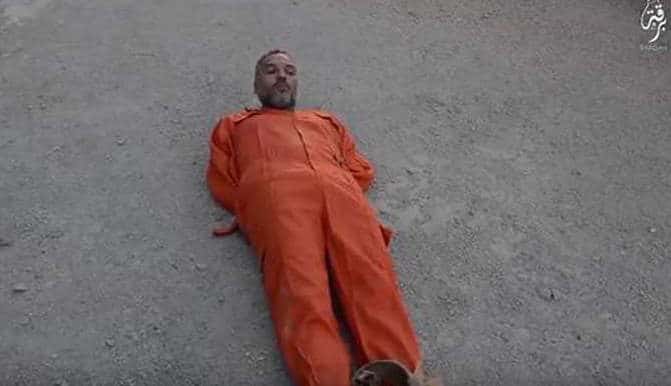 ISIS have released yet another shocking video, this time that of two alleged Libyan spies being dragged to their deaths behind a vehicle.
According to a report via The Libya Herald the killings occurred in an IS-controlled area in the city of Derna. Observed dragged behind the vehicle was 43-year-old prisoner, Rushdi Ageela Omran Al-Masouri, who allegedly confessed to spying. The second victim was reportedly 23-year-old Mohamed Tayib Ali Al-Amri, who allegedly confessed to storing weapons in a house southeast of Derna.
Footage released on an ISIS affiliated channel shows the men in turn being tied up to the back of a truck and driven along the main road until each die from their injuries. 
The men are each dressed in an orange boiler suit, designed to copy the uniforms worn by prisoners in Guantanamo Bay as they await their impending gruesome death.
According to a report via vice, video footage was produced by the Barqah Province of the Islamic State in Libya, according to SITE Intelligence Group, which tracks jihadist activity online.
Tomislav Salopek photos: ISIS wanted $30 million ransom.
NSFW: Tomislav Salopek beheaded by ISIS as ransom deadline expires
Video: ISIS executes ten prisoners by forcing them to kneel over bombs
Cubs of Caliphate Video: Ten year old ISIS child beheads Syrian army officer
NSFW: ISIS execution video shows prisoners in mass graves machine gunned to death
Video: ISIS children execute 25 Syrian regime soldiers at Palmyra
ISIS release drowning prisoner video: Foaming at the mouth
Photos: ISIS dangle gay man by his ankles before dropping him 100ft
Here is a baby sleeping beside handgun and grenade underneath ISIS blanket
NSFW: New ISIS execution video of 30 Ethiopian Christians emerges
Pictures: ISIS stones to death couple accused of fornication before marriage.
ISIS video shows a Libyan captive dragged to his death behind a TRUCK … https://t.co/dcxe1ep90s

— UK News Information (@AnglosearchNews) October 19, 2015
Reports the dailymail: The appallingly graphic video starts of by showing a man with a grey beard and short hair, lying on the ground.
His hands appear to have been tied behind his back and he attempts to ask for mercy before he is tied to the vehicle.
The video goes on to show the man being pulled along the main road, his back and arms exposed to the tarmac. 
Following behind are several white vehicles, watching the awful punishment being carried out.
The new video yet comes as ISIS continues to hold small parts of territory in Libya while struggling to hold ground in Syria and Iraq.
The jihadi group had briefly held much of the city of Dernah in Libya but have struggled to keep ground against other warring factions and government forces in the country. 
Pictures: ISIS beheads three gay men in Iraq. Two were a couple.
Yemeni boy locked in cage and set alight in ISIS imitation by children.
ISIS throw off another gay man from top of building. Crowds cheer.
Next generation of ISIS video shows 5 year olds training learning how to kill
Pictures: ISIS mob drag three Syrian soldier corpses through streets
Video: ISIS beheads 21 Egyptian Christians in Libya.
Video: ISIS parades 17 Kurdish fighters in cages. Promise to burn alive
Video: ISIS execute Syrian prisoner shotgun point blank.
Video: ISIS behead man for witchcraft. Large crowd gather.
NSFW: ISIS burns captured Jordanian pilot alive video and photos
NSFW: ISIS throw man off roof for being gay then stone him.
NSFW: Female Kurdish freedom fighter Rehana beheaded by ISIS
How Jennifer Williams became the ISIS pin up girl. Blonde tattooed girl from Texas
Aliaa Magda Elmahdy, Feminist activist defecates and bleeds on black ISIS flag
Video: Exiled Iranian women pose nude to protest against sexual oppression
#ISISmediaBlackout: James Foley beheading. Should the media blackout ISIS propaganda?
ISIS orders female genital mutilation in Iraq. Girls from 11 and up
NSFW: Why is ISIS posting mass killing of Iraqi soldiers?