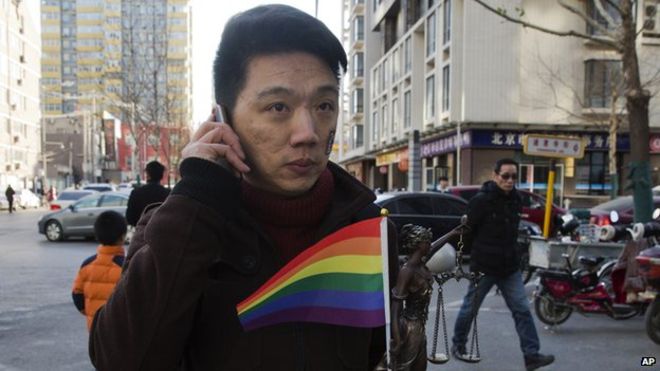 A disturbing report via the UK's metro has told of clinics using electroshock treatment in a bid to 'cure' Chinese men of their same sex sexual preference.
Courtesy of the UK's Channel 4, Unreported World, an underground investigative broadcast sought to explore the brimming industry of clinics which continue to offer 'conversion' therapy for homosexual men. The price, a mere few hundred dollars.
Despite homosexuality having not been classified as a mental illness in China since 2001, anti-gay prejudice remains common.
Saddled with the guilt of preferring the love of same sex and the shame of never being able to bear offspring for one's parents, clinics have sprung up selling 'bogus' treatments to conflicted men.
Tells one doctor to undercover gay activist John Shen during a consultation at a hospital in Tianjin: 'Can you bear this kind of pain? How long can you bear it?
'Your conditioned reflex is that when you see someone of the same sex, you feel love. Now what I want to make you feel is scared.'
The doctor then described how the electroshock therapy would be self-administered alongside a course of nausea-inducing drugs.
The Xinyu Piaxiang clinic has since had to apologize and pay $550 compensation for offering the treatment, after a landmark ruling in Beijing banning the practice in December, 2014. Yet questions persist as to whether other clinics continue to offer such treatment and whether in fact clinics will seek to defy court orders on the sly.
In the award against Xinyu, Yang Teng, also known as Xiao Zhen told during treatments to have sexual thoughts about men at the same time as receiving electric shocks.
During a hearing which saw the man reimbursed his 'conversion' fees, Teng disclosed agreeing to the therapy following pressure from his parents.
Gay rights activist John Shen, who is deputy director of one of China's largest gay rights groups, said often parents who are unwilling to accept their child's sexuality often force sons to undergo the painful treatments.
Another activist went as far as to undergo the shock treatment and can be seen twitching on a hospital bed as an assistant zaps his body.
He claims half his face went numb during the treatment at the Huashan clinic in Tianjin.
Reiterated Yang Teng via AFP after last year's landmark court ruling: 'I'm going to take this verdict and show it to my parents so they can see a Chinese court said homosexuality isn't a mental illness,'
'Someone needs to step up because we must stop such severe transgressions.'
Unreported World, China's Gay Shock Therapy, will air in the UK on Friday at 7.30pm on Channel 4.