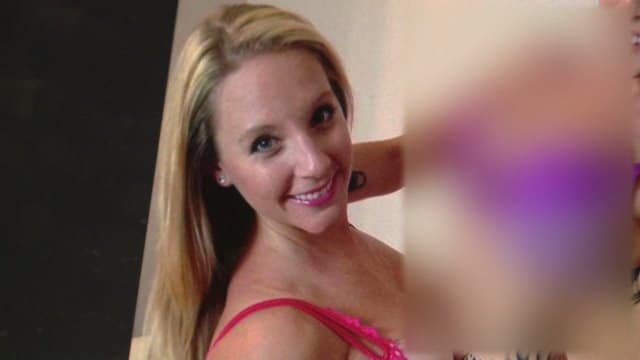 Kristin Sundman of Roosevelt High School in Kent, Ohio has resigned after racy images of the band teacher surfaced.
According to Kent City school officials, the saucy teacher who also goes by her stage name, melodyXXXtune, placed Sundman, 31, on paid administrative leave last week following allegations of inappropriate use of social media.
The images of the woman interestingly linked back to an adult entertainment website where an array of videos and images of the school teacher with an incriminating tattoo were 'observed.'
Reports the dailycaller: A (NSFW) search for Twitter mentions of @melodyXXXtune suggests that Sundman has appeared on ItsCleoLive. com, a site full of 'kinky hardcore vids and pics.'
'Hi! I am Cleo!' the website's introduction enthuses the website's introduction. 'You probably know me as one of the better known cam girls on the net. Welcome!'
 Responding to the incident, Kent Schools Superintendent George Joseph said the district received Kristin Sundman's letter of resignation over the weekend.
'Over the weekend, we received a resignation, and that is effective immediately,' Joseph said. 'With that resignation, our investigation of the matter is closed, as she is no longer our employee.'
Images of the woman showed Sundman acting out scenes of self pleasure along with other acts of intimacies with other women. Asked if the woman in the videos was out of context from the one Joseph knew, the superintendent acknowledged that it was indeed the case.
Sundman's sudden departure comes after spending eight years as an assistance band director at the high school.
Of question is if the images and video involved any of the school's students and whether said images and video were created during Sundman's tenor at the school?
@ItsCleoLive @melodyxxxtune #ItsCleo #ItsCleoLive #MelodyxxxTune pic.twitter.com/XyY2vhdDpR

— Zach Tank (@ZachTankArt) March 25, 2015
@ItsCleoLive @melodyxxxtune #ItsCleo #ItsCleoLive #melodyXXXtune pic.twitter.com/6YFBaUJESX
— Zach Tank (@ZachTankArt) March 24, 2015
@ItsCleoLive @melodyxxxtune #ItsCleo #ItsCleoLive #melodyXXXtune pic.twitter.com/MyNBUFEmxC

— Zach Tank (@ZachTankArt) March 24, 2015