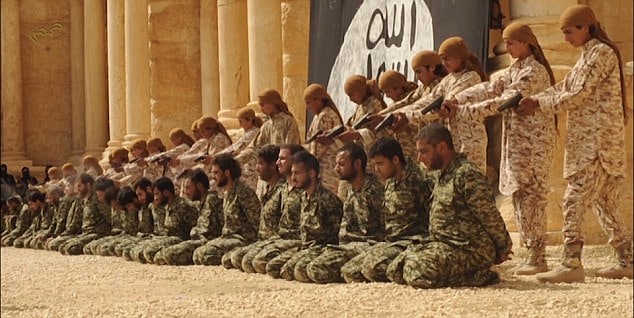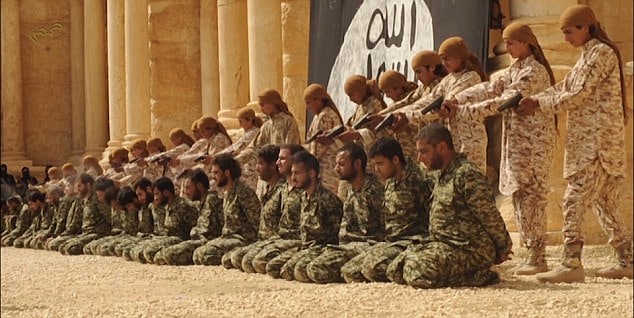 On the day of America's Independence day, Islamic militant group, ISIS has yet again chosen to release a new harrowing video (see below). This time that of children standing behind 25 crouching Syrian regime soldiers with cocked rifles before shooting them in the back of the head.
ISIS release drowning prisoner video: Foaming at the mouth
Photos: ISIS dangle gay man by his ankles before dropping him 100ft
Here is a baby sleeping beside handgun and grenade underneath ISIS blanket
NSFW: New ISIS execution video of 30 Ethiopian Christians emerges
Pictures: ISIS stones to death couple accused of fornication before marriage.
The execution appears to have taken place at the ancient Roman amphitheater in Palmyra, Syria. The men's executioners boys who are teens, no older than 12 or 13 years old and ostensibly still children.
In the video, a group of several hundred men watch as the soldiers are forced to their knees, guns to their heads, and executed. The BBC reports that the Islamic State has said that the executed men were soldiers captured in the city of Homs.
According to Al Arabiya, the video begins with a recitation of the Quran before then cutting to shots of the conflict, and then chained-together soldiers being led out of a cell onto a courtyard.
The captives are then transported by a convoy of pickup trucks to the site of the Palmyra ruins, where they are made to kneel in a line in the amphitheater.
Leading into the execution, a baying crowd of gathered men and boys in the restored ruin wait for the imminent slaughter, many wearing military uniforms and headscarves.
ISIS captured the historic city on May 21, and has been systematically destroying the city's treasured ancient monuments. The same time that the latest televised execution is believed to have taken place.
Since its fall to ISIS, the area has seen the second round of executions carried out in the city's ancient amphitheater.
ISIS reportedly carried out more than 200 executions, including of civilians, in and around Palmyra in the period when it captured the city.
Authorities fear that the use of children as soldiers and suicide bombers will only increase in the coming months.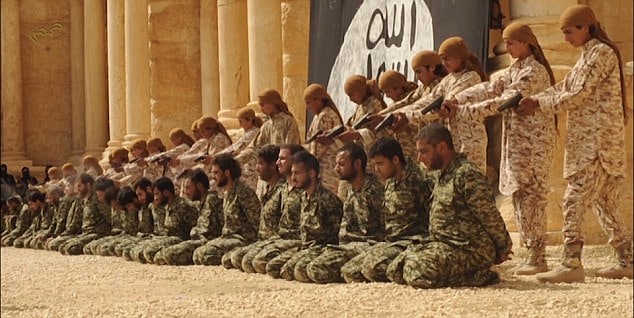 Pictures: ISIS beheads three gay men in Iraq. Two were a couple.
Yemeni boy locked in cage and set alight in ISIS imitation by children.
ISIS throw off another gay man from top of building. Crowds cheer.
Next generation of ISIS video shows 5 year olds training learning how to kill
Pictures: ISIS mob drag three Syrian soldier corpses through streets
Video: ISIS beheads 21 Egyptian Christians in Libya.
Video: ISIS parades 17 Kurdish fighters in cages. Promise to burn alive
Video: ISIS execute Syrian prisoner shotgun point blank.
Video: ISIS behead man for witchcraft. Large crowd gather.
NSFW: ISIS burns captured Jordanian pilot alive video and photos
NSFW: ISIS throw man off roof for being gay then stone him.
NSFW: Female Kurdish freedom fighter Rehana beheaded by ISIS
How Jennifer Williams became the ISIS pin up girl. Blonde tattooed girl from Texas
Aliaa Magda Elmahdy, Feminist activist defecates and bleeds on black ISIS flag
Video: Exiled Iranian women pose nude to protest against sexual oppression
#ISISmediaBlackout: James Foley beheading. Should the media blackout ISIS propaganda?
ISIS orders female genital mutilation in Iraq. Girls from 11 and up
NSFW: Why is ISIS posting mass killing of Iraqi soldiers?