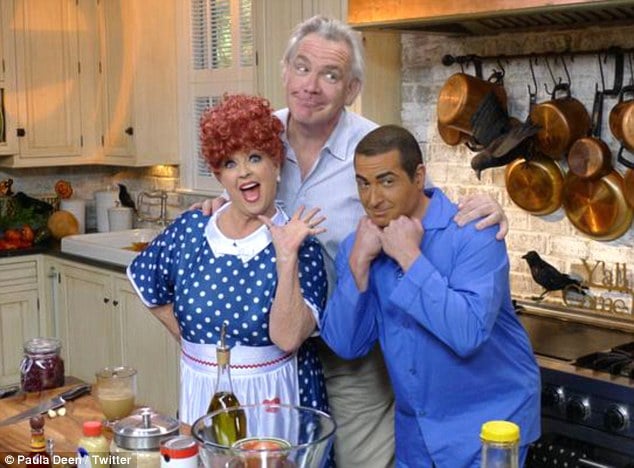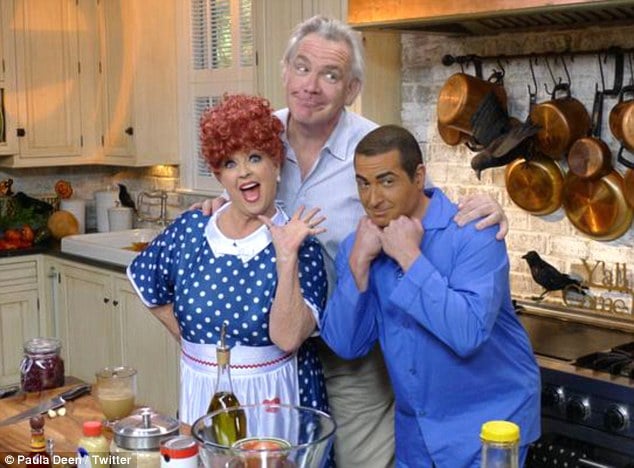 Former Food networking chef, Paula Deen has caused outrage after a picture of her son, Bobby Deen wearing 'brown face' came to be shared with her twitter followers.
The tweet which the controversial chef has since blamed on her twitter media manager would quickly be taken down but by then it was too late as screen grabs began making the viral rounds.
Paula Deen compares herself to Michael Sam and the internet vomits.
Paula Deen will never use the word nigger again. Suffers more losses.
Paula Deen's apology means shit. Dropped yet again…
Paula Deen tells Matt Lauer she does not like niggers at all.
Did Paula Deen turn up drunk on the Today show?
In the image, which harks back to a  2011 Halloween episode, a beaming Paula (naturally) and her 45-year-old son, Bobby, are seen posing behind a kitchen counter dressed as Lucille Ball and Desi Arnaz, the stars of the cult CBS sitcom, 'I Love Lucy.'
Alongside the photo, 68-year-old Paula wrote: 'Lucyyyyyyy! You got a lot of esplainin' to do! #TransformationTuesday.' 
The tweet comes after the chef was sacked from the Food Networking channel after viewers took exception to allegations she had called staff 'niggers.'
Come Tuesday afternoon, Twitter users were express their disgust with one user writing: 'I'd bet Paula Deen's comeback is about to crash and burn.'
Another tweeted, 'Is anyone really surprised that Paula Deen and her son learned NOTHING?'
Whilst another posted: 'Paula Deen should try transforming into someone who is culturally sensitive.' 
Yet something strange happened.
Rather than apologizing for the offending tweet, or simply hiding under a boulder rock, Paula Deen inexplicably then took to promoting her new cookbook.
Posted Deen: 'By now I hope y'all have heard my great news, I have a new cookbook available for preorder!' before including a link to a recent blog post about the book.
So much for recognizing that one's 'unorthodox views' on racism and joshing around hardly flies well with a national following.
If you're using the film "White Chicks" to justify Paula Deen and her brownface photo, you have hit ROCK BOTTOM.

— Hari Kondabolu (@harikondabolu) July 7, 2015
Paula Deen looks to put racial issues behind her with a photo of her son in 'brownface' [screenshot] http://t.co/qg7abP11Ex — TwitchyTeam (@TwitchyTeam) July 7, 2015
Are you shitting me? People are on a serious witch hunt. This is all bullshit. http://t.co/haiuZt79rl

— Clifton Shepherd (@CliffShep) July 8, 2015
In June 2013, at the height of controversy of racist views and allegations, Paula Deen issued a groveling, tearful video apology.
Told the woman at the time: 'I want to apologize to everybody for the wrong that I've done,' she said in the video statement.
'I want to learn and grow from this. 
'Inappropriate and hurtful language is totally, totally unacceptable. I've made plenty of mistakes along the way but I beg you, my children, my team, my fans, my partners, I beg for your forgiveness.' 
Despite her apology, Paula was sacked from the Food Network, on which she had three regular shows, including Paula's Best Dishes. The Southern inspired chef also had numerous endorsement contracts canceled. 
Paula – who was a star on the Food Network for more than 13 years before her high-profile sacking – has since attempted to rebuild her empire, including making a documentary about her own downfall. At present it is not necessarily understood whether this morning's episode will be appearing in the comeback documentary…
I think all of that butter has gone straight to @Paula_Deen's head. In what world is it okay to do brownface?
— Marissa Hernandez (@MarissaMN) July 8, 2015
Lesson Unlearned? Celebrity Chef Paula Deen In Hot Water For Posting Photo Of Son In Brownface: Paula Deen may… http://t.co/xSycVuZDPq

— Black Chicago (@blckchicago) July 8, 2015
Please explain to me like I'm a 2-year old why Paula Deen is getting a ration of shit when it's HER SON Bobby sporting the brownface?????
— Tom Kidd (@FabulousThomasJ) July 8, 2015