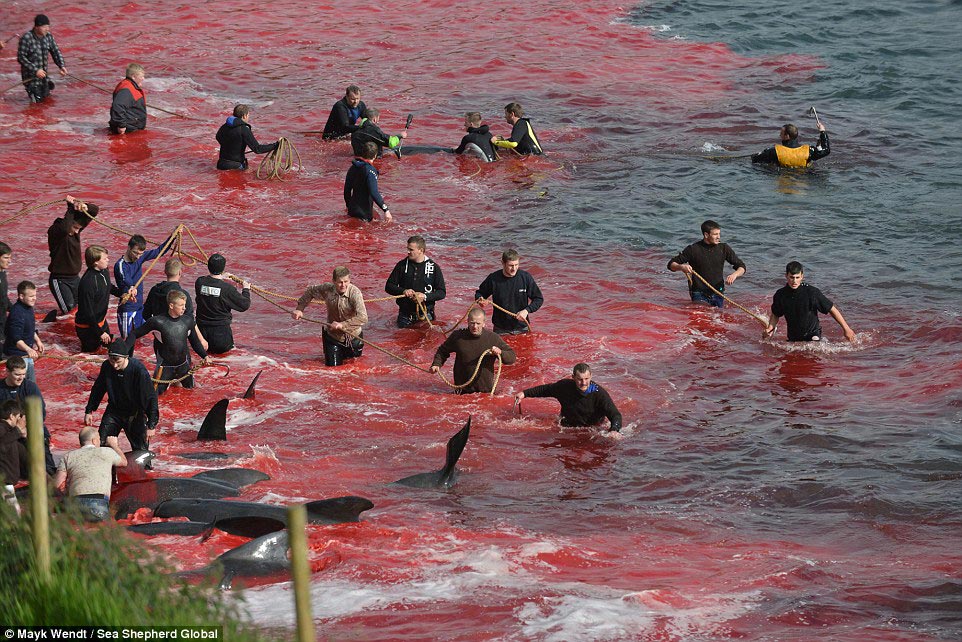 Now might be the time to turn your eyes away as the annual Faroe Islands whale massacre gets underway with the latest batch of images making their way courtesy of activist group, Sea Shepherd.
Known as the grindadráp, the slaughtering of pilots whales in the Danish owned Faroe Islands took place yesterday. As many as 250 whales were massacred on two beaches in Bøur and Tórshavn as locals used harpoons and knifes to hack the all of the pilot whales to death.
Benjamin Rasmussen takes pictures of Faroe Island Whale killings.
The scenes were filmed by activists from Sea Shepherd, a non-profit, marine wildlife conservation organization.
The killing involves forcing whales to forced to swim towards the beaches, where awaiting locals then begin to run down from the jetty towards the sea with their arms ready.
Unable to go anywhere, the whales slow, where they then become easy targets as the fishermen in power boats and dinghies begin to close in on the large school of whales.  
The locals, many of whom are dressed in full wetsuits and bobble hats, wade into the water and begin to drag the distressed animals up the beach where they begin to hatchet them.
An array of weapons is utilized for the grizzly task,  including sharp knives and harpoons, with locals hacking and slicing at whale's fatty necks and puncturing their sides.
Soon the water turns a dense red, as one by one the whales are slaughtered by locals who insist on ascribing to local tradition as permitted by Danish law.
The felling is carried out across the archipelago of the Faroes Island each year. And each year activists set out from Sea Shepherd to protest the whale massacre slaughter, only to be arrested after attempting to disrupt the 'legal hunt.'
Wyanda Lublink, captain of the Brigitte Bardot told Sea Shepherd activists that he believed two Danish naval vessels, HDMS Triton and HDMS Knud Rasmussen were in Bøur when the hunt took place.
Offered activist Captain Wyanda Lublink: 'It was perfectly clear to me that the Danish Navy was present at Bøur to guard the grindadráp, and that the slaughter would proceed with the full consent of the Danish Navy.
'How Denmark – an anti-whaling member nation of the European Union, subject to laws prohibiting the slaughter of cetaceans – can attempt to justify its collaboration in this slaughter is incomprehensible'. 
To date the annual killing continues with locals citing that pilot whale population is not endangered. 
The Faroese have been carrying out the annual hunt for hundreds of years, and although whaling is illegal in Denmark, it is allowed in the Faroe Islands.
All the hunted whales are used for their food, with pilot whale meat and flubber being the main products used by the Faroese.