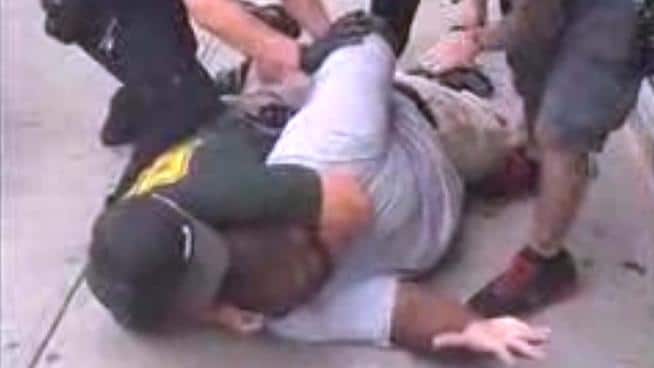 Eyes have come to be raised after new disclosure that Eric Garner's widow, Esaw Garner, has turned down a $5 million settlement officer from New York City, demanding instead that the office pay up $75 million instead.
Whilst NYC Controller Scott Stringer may have thought he was offering Eric Garner's family a more than respectable wrongful death settlement, Garner's family have declined to budge after being 'urged' to accept the 'generous' offer.
This despite the fact that the $5 million settlement offer from the city is reported to be the largest figure ever offered in a NYPD wrongful death case.
Couple mock Eric Garner chokehold live on WPIX. Internet loses its mind
Did Eric Garner deserve to die? Was Daniel Pantaleo just doing his job?
Did Daniel Pantaleo, NYPD cop get away with murder?
Oh really? Eric Garner police report neglects to mention choke hold.
Video: Eric Garner, choked dad offered no medical aid by NYPD
The Eric Garner wrongful death suit comes after the man came to be put in a choke hold and consequently die after an altercation with cops last year in relation to him purportedly selling loosies on the street. 
An inquest ruled that Garner's death a homicide, with NYPD officer Daniel Pantaleo's chokehold contributing to the man's death. Although Pantaleo was not found criminally liable the Brooklyn U.S. Attorney is investigating Pantaleo's role for possible civil rights violations.
According to a report via the nydailynews, Garner's widow, Esaw has told she is disgusted with the U.S. justice system, telling:
'It seems like because they didn't prosecute the officers on Staten Island, all the other officers were like, 'H**l. We'll get away with it. Let's just do it again."
The widow's stance for a higher payout could also be predicated by the fact that her late husband (with whom she has four children with ranging in ages from 15 to 25) mistress, Jewel Miller came to have a one year old daughter out of wedlock with the man, baby girl, Legacy.
A baby girl that Esaw refuses to acknowledge or ever be allowed to be part of her family.
That said, legal experts believe Eric Garner's baby girl stands to get the biggest share of any settlement or judgment because payout formulas used by the court are based on life expectancy, and her half-siblings are significantly older than Legacy.