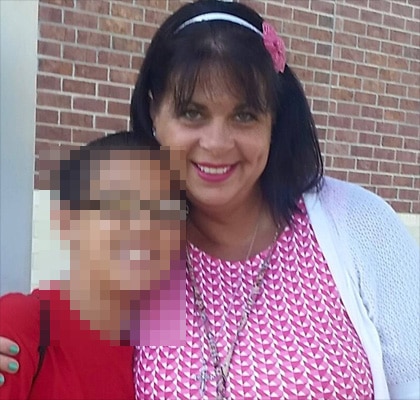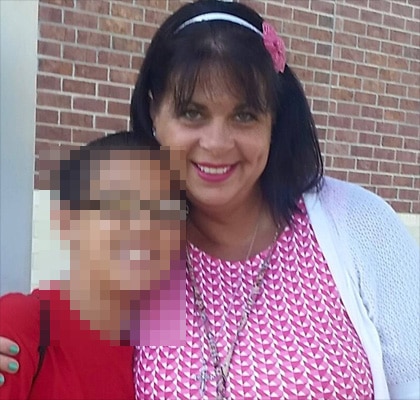 Alecia Dotson, a 45 year old married teacher's aide has been arrested in a sting after bringing strawberry lubricant to a Florida movie theater so she could have a physical relationship with a eleven year old boy whom she had a crush on.
The sting went down after the Highland Grove Elementary School teacher was contacted by detectives pretending to be the boy, whom the woman had nicknamed 'love bug,' after discovering more than 100 explicit texts between the teacher and the student.
On the way to the theater on Tuesday, Dotson, who has at least four children of her own, stopped at Spencer's at Lakeland Mall and bought a bottle of warming lubricant.
She then took the strawberry-flavored substance into the cinema, it is alleged. However, instead of being met by the unidentified fifth-grader, the teacher was met by cops and arrested at the scene.
Dotson has since been charged with attempted sexual battery on a child under the age of 12, using a computer device to solicit a child, and other related charges, according to WTSP.
She has also been suspended from her teaching post without pay, reports the Orlando Sentinel.
As a 'paraprofessional', the teacher was earning an annual salary of $13,870 there.
According to cops, the boy's mother first discovered her son's 'inappropriate' relationship with Dotson on Sunday after scrolling through his text messages.
She was horrified to find dozens of graphic and explicit messages from Dotson to the boy. She immediately called police and the Special Victims Unit began an investigation.
'There were approximately 100 text messages sent back and forth between the two,' said Police Sgt. Gary Gross, adding that Dotson had texted the child on Sunday, asking to take him to the library.
While the detectives were at the boy's home, Dotson allegedly sent a text to the youngster, reading: 'Love bug what are you doing… I'll be sure to tell her we won't have sex on the first visit…LOL.'
On Tuesday, she sent another one: 'Are you awake love bug?', it is said.
It was then that detectives started texting her back, pretending to be the boy, and set up the sting at the cinema in the mall.
Dotson reportedly told officers her relationship with the minor had grown from a 'mentorship' to a 'crush' and a 'romantic relationship' in recent weeks.  
Jason Geary, acting senior coordinator of media relations for Polk County School District said the woman who acquired her job last year, did not have any past black marks on her file.
According to court records, Dotson was arrested in November 2011 in Polk County, Florida, on domestic battery charges, which were later dropped. Other than traffic offenses, she has no other prior criminal record.
On her Facebook page, the aide is listed as 'married', Her last post features a photo of herself with her children. Alongside the image, she wrote: 'My family….love having my babies together again!'
Meanwhile, her profile picture is of her and a man believed to be her husband.
Dotson remains in Polk County Jail.
Images via imgur