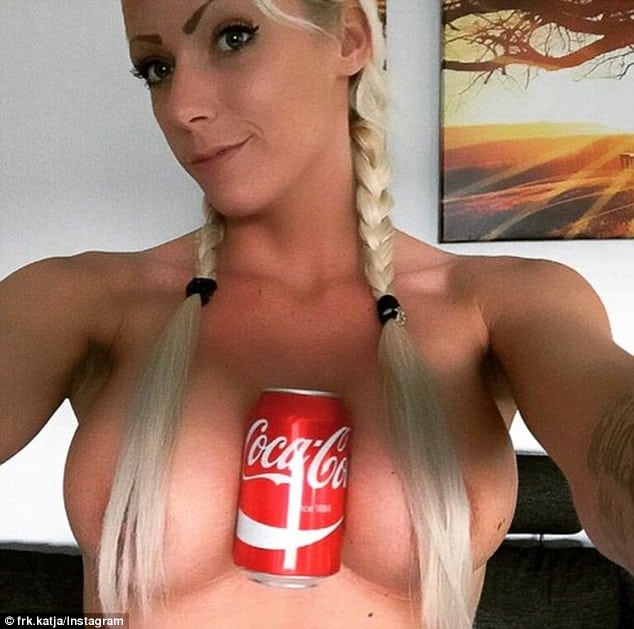 #HoldACokeWithYourBoobsChallenge: Did you sexualize your body for a bogus cause too?
What at first had appeared like a benevolent cause seeking to raise awareness for breast cancer has now been found out to be anything but the thrill joy courtesy of an adult entertainment company.
It all began on May 25 when a page called "Hold A Coke With Your Boobs Challenge" turned up on Facebook.
According to uproxx it was started by Elite Talent Referral, which promotes itself as a scouting agency of sorts for the adult entertainment industry.
Brief pause. That ought to make one wonder….
The initial word on the internet was positive because people thought it was designed to raise money for theBreast Cancer Research Foundation. In a way, it was mimicking the success of last year's Ice Bucket Challenge for ALS.
But the good feel was short lived after someone took it upon themselves to do some actual fact checking.
When the folks at Breast Cancer Research Foundation caught wind off that they had been implicated in a shake my breast for the internet sham the entity issued a statement taking umbrage with organizers who had sought to convince followers that they were in on it.
Said the statement via nydailynews: 'It's something millions of people suffer from every day and to trivialize it in such a blatant way is terrible.'
'It's not in any way a part of our mission or who we are,' 'If people plan to be involved with a campaign it's important they learn more about the cause they choose to support.'
Never mind, by Wednesday afternoon the facebook page had already suckered 15 000 likes and a stream of too close for scanty comfort videos and images and videos.
Since discovering the challenge to be a fraud, spokeswoman Sadia Choudhury, for the Breast Cancer Research Foundation reiterated the organization wants no part and will decline any money that has been raised by people who jiggled their breasts.
Sensing that they may have pissed off a few people, #HoldACokeWithYourBoobsChallenge organizers, Danny Frost and model Gemma Jaxx of Elite Talent Referral took to facebook in a bid to defuse some frayed nerves.
Denying they intended to be disrespectful to people with breast cancer, the pair stressed that the stunt was never supposed to be a fundraiser or awareness campaign. Instead they suggested that people donate to their favorite charity, adding it could have benefits to help make women, who may not think they could be affected by the disease, go see a doctor.
Told their statement in part:  'So if this gets a few of those types of girls to do their checkups and prevents them from losing their breast or dying from breast cancer by doing something fun and goofy, does it not make it worth it?'
'We want to get to a point where women don't have to worry about losing their breast. And we want every woman to do her exams. That's what this challenge is about and grew into.'
Of course no mention about the part of getting women to becoming foolish exhibitionists and charged sex objects came to be mentioned either….