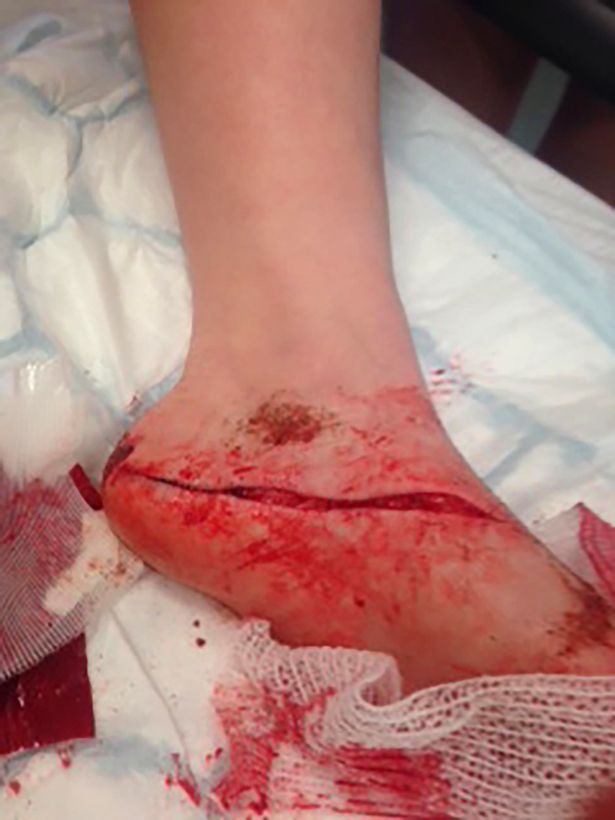 Emmalee McCormick, a ten year old Blackpool, Lancashire, UK girl had only meant to have a relaxing sea side swim except that was the furthest thing that came to happen after the schoolgirl felt a 'scratch' on her foot which turned out to be a deep gash from toe to ankle.
It all came to happen on when the schoolgirl was swimming with a friend at her local beach when she felt a sudden pang on her left foot.
As she lifted her foot, she noticed blood pouring out along the whole side of her foot. On the ocean floor lay a discarded barbecue grill that the girl had inadvertently scraped against whilst swimming.
Then again one oughtn't think finding a discarded bbq grill in the ocean in the first place?
According to the mirror, the girl was rushed to Blackpool Victoria Hospital after a couple ran to her aid.
The girl would be left in excruciating pain as she underwent surgery to sew up her foot and was left on intravenous antibiotics for 24 hours to deal with the agony.
Horrified mum Michelle Hargreaves, 38, was among four people forced to hold down Emmalee while doctors jetwashed sand, stones and even lighter fluid that had come off the barbecue from her foot.
Doctors would be forced to use one continuous stitch to sew up the wound because the cut was so deep.
Medical staff feared that any more stitches could cause the cut to open for a second time.
Told the girl's mother: 'There was just blood everywhere and it turned my stomach when I saw it – it was like something from Bizarre ER on the telly.
'Emmalee was absolutely screaming and it took four of us to hold her down on the hospital bed but she was so brave, I was proud of her.
'Loads of things came flooding out of her while they were washing out her foot – they came out so fast that some stones and things hit the doctor in the face.
'She could have got gangrene or something like that with all that stuff in there – you'd expect a cut like that from a glass shard or something but not from a barbecue.'
"I want to thank the couple at the beach and the YMCA women because they really helped my daughter out while she was in agony."
A spokesman for Wyre Council, the body responsible for maintaining the beach has since told: 'We can all do our bit to keep beaches and bathing waters clean by putting litter in the bin.
'As sadly demonstrated in this case, food waste such as broken bottles, cans and other containers can be dangerous for children and wildlife so please take them with you off the beach and recycle them at home.'
Almost a week later, Emmalee is still unable to attend Charles Saer Primary School in Fleetwood, Lancashire, and has been left on crutches.