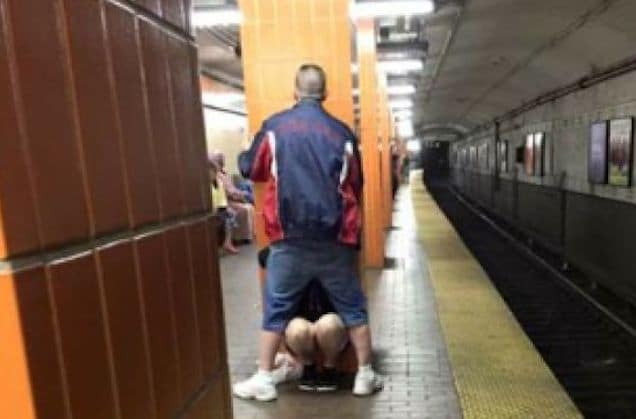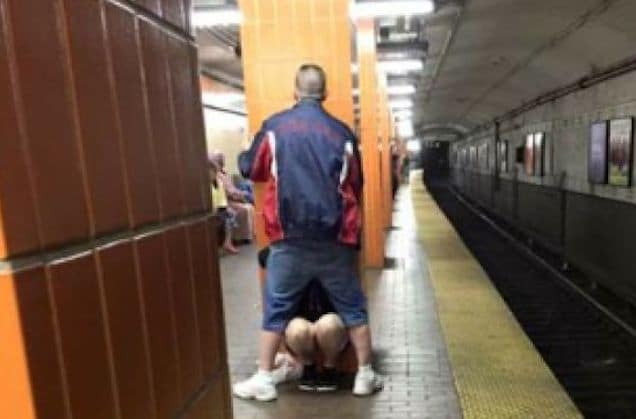 Only the daring and the foolish might be the axiom to go by after MBTA transit cops last night arrested our collective hero, Philip Urban after images of the man receiving a blow job on the platform of an Orange Line station in downtown Boston earlier this month went the viral course.
Yes that's right kids, I'll order what he is having. Or will you?
According to a report via the bostonglobe officers from the Special Crimes Unit arrested the 50 year old man of Malden Thursday night and charged him with open and gross lewdness.
Things got sticky (pun intended) when Philip Urban and his partner (who has yet to be identified and accounted for, but will she now?) when alarmed passengers noticed the 'fun couple' standing next to a column at State Street Station on May 13 circa 2.30 pm (not even 2.30 am kids- how shocking!) and getting gritty.
Cops would be notified of the good subway platform cheer after a photo of the fun act was shared on Facebook and of course went viral.
Reports the bostonglobe: After widely distributing surveillance photos of Urban on their own Facebook page and blog this week, officers were able take Urban into custody.
Offered Transit Police Lieutenant Richard Sullivan: 'We received some tips, but we put a lot of time into reviewing images from our public safety cameras, and we were able to track him to Malden.'
Adding: 'Conduct like that is not going to be tolerated.'
For his good times, the man now faces the prospect of being listed on the state's sex offender list ('but it was only an early afternoon blowjob your honor!!') if he has been previously convicted of any prior open and gross lewdness charges.
Of course some commentators have wondered if prosecutors are going too far in bringing the man on a sex offender's list cause technically speaking no one was sexually violated.
Our collective hero now faces up to three years in state prison and a $300 fine.
Philip Urban is to be arraigned Friday in Boston Municipal Court, according to police.