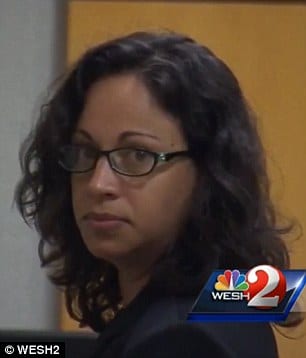 Irene Khan a former science teacher has been mandated to serve community service as well as register as a sex offender after disclosures that the 34 year old West Melbourne, Florida mother of two had a year long relationship with a 14 year old student three years ago.
The Imagine Charter School teacher's June 30, 2012 arrest came after the woman admitted to the sexual tryst with the student which began after the teacher decided to call the boy after he had written his phone number on a chalk board in the hopes of then scoring a date with his fellow female classmates.
According to a report via WESH Orlando the pair soon began to 'hook up' in the then married teacher's car and apartment.
It is also alleged the teacher took the boy to a variety of hotels and motels in the local area.
Offered West Melbourne police spokesman Steve Wilkinson: 'She got into a sexual relationship with him over several months and we got information on that and we brought the victim in and questioned him.'
Khan would eventually be fired from the school on unrelated reasons after allegations of inappropriate behavior, including showing off her tattoos to students.
Perhaps not surprisingly Irene Khan would come to be arrested by cops in June of 2012, shortly after her dismissal after information had been brought to their attention.
Questioned by cops, Khan at the time said her relationship with the student wasn't sexual.
Nevertheless the science teacher would eventually relent after police obtained text messages in which both the student and Khan texted 'I love you' to each other.
In one text, Khan said she wanted a kiss.
It would also be divulged that Khan had provided the youth with a cellphone after the child's mother took his away from him.
The woman's arrest would lead to the then woman's husband seeking a divorce from his wife in September 2012.
Arrested on charges of lewd and lascivious battery the woman would only avoid jail after agreeing on Wednesday to plead guilty on two of the eight second degree felony counts initially levied against her.
In turn, Brevard County Circuit Court Judge James H. Earp sentenced Khan to two years community control followed by ten years probation.
A punishment which one wonders would be for the offering if the genders were reversed?
Along with probation the former science teacher must also register as a sex offender and is forbidden from having any contact with children besides her own.
Interestingly during her sentencing the judge explicitly told the woman she is not allowed to wear a Santa outfit or any costume that may appeal to children. Breach of would lead to the woman facing 30 years prison.
At present it is not necessarily understood why the teacher abused her authority and position of power to sexually prey on the then 14 year old boy.