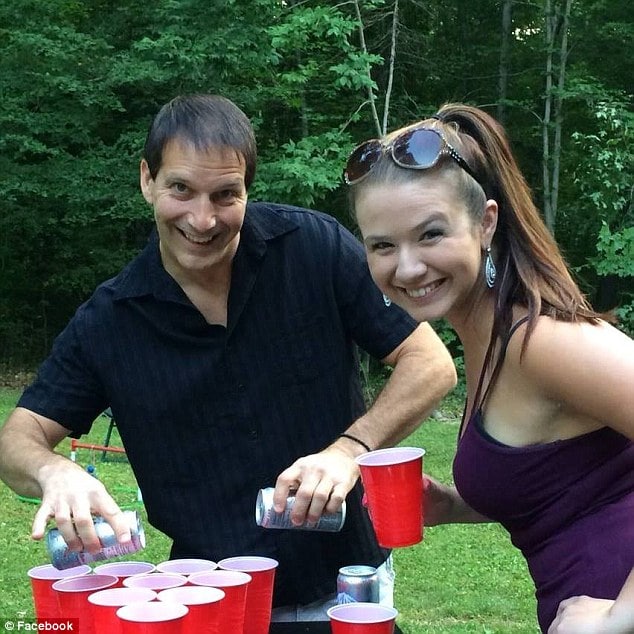 Angelika Graswald, 35 has been charged with second degree murder in the death of her 46 year old fiance Vincent Viafore who went missing in mid April after his kayak capsized along NY's Hudson River.
According to cops Graswald had planned to kill her groom to be and had made his death look like a kayak accident.
Although the man's body has yet to be discovered authorities claim the tip off came when the woman's diary was read in which she wrote she would murder Viafore after discussion of a threesome was raised.
Now behind bars awaiting trial, the Eastern European divorcee from Poughkeepsie has insisted the accusations against her are baseless.
According to Graswald, police misinterpreted her diary entries in her diary where she described how her fiance enjoyed rough sex and was pressuring her into having threesomes.
The 35-year-old bride-to-be confided to her diary that her fiance's eccentric sexual proclivities at times made her wish he was dead.
That said the woman has told she and Viafore were very much in love, and that her harsh words about the man were written during low points in their relationship.
Troopers have said Viafore was kayaking with Graswald on the Hudson River on the evening of April 19 when his vessel flipped over near the town of Cornwall-On-Hudson. 
Graswald called 911 telling the dispatcher she had fallen out of her own kayak. She was later picked up by a boater. Police have yet to find Viafore's body.
Initially, police believed that Graswald tried to help her fiance and fell into the water. She was eventually scooped up by a passing boat and called 911 after reaching land to report Viafore missing.
According to a criminal complaint unveiled Thursday afternoon, prosecutors allege that Graswald intentionally caused Viafore's death.
The complaint states that rough waters combined with strong winds caused Viafore's kayak to overturn. The man was not wearing a life jacket at the time, but his fiancee was.
To date authorities have not specified what led them to conclude that Graswald was responsible for her fiance's death, only saying that she had made conflicting statements implicating herself in the crime.  
Graswald was arraigned Thursday and ordered held without bail at the Orange County Jail with no bail. She is due back in court May 5.
Addressing the inconsistencies in her version of events noted by police, Graswald said from jail that she had been unconscious for much of the time the night of the kayak accident. 
In the days leading up to her arrest, Graswald had been active on her Facebook page, where she goes by the name of Angelika Lipska sharing cellphone videos of her playing with her kitten and uploading a dozen romantic photos of her and Viafore.
As recently as Tuesday, she shared a picture of the happy couple at a lakeside cabin, accompanied by the caption: 'I miss you, my love…' 
About four days after Viafore's disappearance, Graswald posted a picture of her kayaking, accompanied by the caption: 'If only I could have paddled harder, dammit…'
The woman would also post other images highlighting what appeared her care free abandon nature, including images of her playing with animals and another of her doing a cartwheel in someone's backyard.
When asked about her light-hearted social media posts since Viafore's tragic disappearance, Graswald said from jail that it was just her way of grieving.
As recent as last Monday the woman wrote on Facebook: 'I just want to thank everyone for reaching out. Please, keep your prayers for Vince.
'Miracles ARE possible. The authorities are doing everything they can. 
'We do not need anyone else getting hurt, as it is very dangerous out there, especially without daylight. Please, no questions at this point, we're doing everything we can. We will find him.' 
According to the missing man's Facebook post from late January, the couple had planned to get married on the Baltic Sea in Europe, followed by a Hudson River party cruise for their friends upon their return to New York.
Kimberly Popovich, a friend of the missing man acknowledged to the New York Times that Viafore had a lucrative job as a project manager and had been supporting the suspect ever since she quit her job as a bartender.
New York State Police say they're still searching for Viafore's body and are asking the public for help.