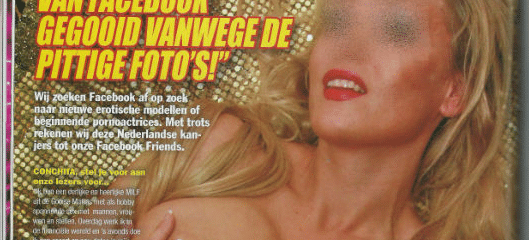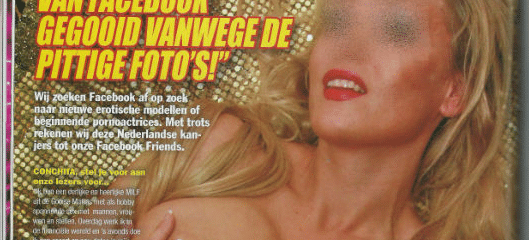 Oh dear what to say, what to think, never mind just another week in the ongoing saga of high paid top Dutch banker's life, Conchita van der Waal aka dominatrix to the financial elite…
Eyebrows have been raised with the firing of a top Dutch banking official/supervisor at the Dutch Central Bank after revelations that the 46 year old employee had been living a secret double life as a high end prostitute.
Whilst responsible for regulating the financial services industry in the Netherlands for eight years, leaked papers disclosed the sordid activities of the woman over the last 6 years after assuming the stage name of Conchita van der Waal and going by the twitter handle @CatchConchita.
The woman's dossier included offering a range of sexual services at the going rate of €450 an hour with solicitations for off the chart sexual exploits which read in part, 'the kinkier the better.' Indeed.
Despite maintaining her extravagant double life (surely insiders were in the know?) the woman's eventual demise would come after Dutch Central Bak officials were notified of the woman's double life.
As of yet the banker's real life identity has yet to be publicly revealed, except to say she had previously worked with Holland's ABN-AMRO and ING Bank.
Nevertheless clues would be offered on the dominatrix's website (since deleted) which showed off a gamut of pursuits including the banker wearing a nazi SS cap along with a whip.
Told one offering to prospective clients: 'I have a challenging career in international finance. it takes me to many places (mainly western Europe and America. 
'Business meetings, elegant suits, lace stockings, garter belts, hold-ups, stilleto heels. If only my colleagues, clients or boss knew that at night I enjoy my hobby of being a hooker.'
Which of course posits the thought was that in essence half the fun and adrenaline?
Further declarations include admissions from the banker that she is a native Dutch blond who is a 'high class nymphomaniac/prostitute'. 
As well as the admission that her greatest passion includes 'raunchy kinky sex with wild strangers and naughty men'.  
Since Dutch magazine Quote broke the story of the woman's double life, the Dutch Central Bank would decline overtures for comment except to say that the employee had been fired over 'integrity issues' and has since being alleviated of her role at the financial institution.
That said there might be further consternation ahead for the banker.
Despite prostitution being legal in Holland, workers at the Dutch Central Bank are not allowed to engage in any activities which could bring the institution into disrepute such as 'indecent behavior'. 
A report via the Irish Times tells that the former banker faces the potential of further action from Dutch authorities because she failed to register officially as a prostitute and did not have a VAT number.