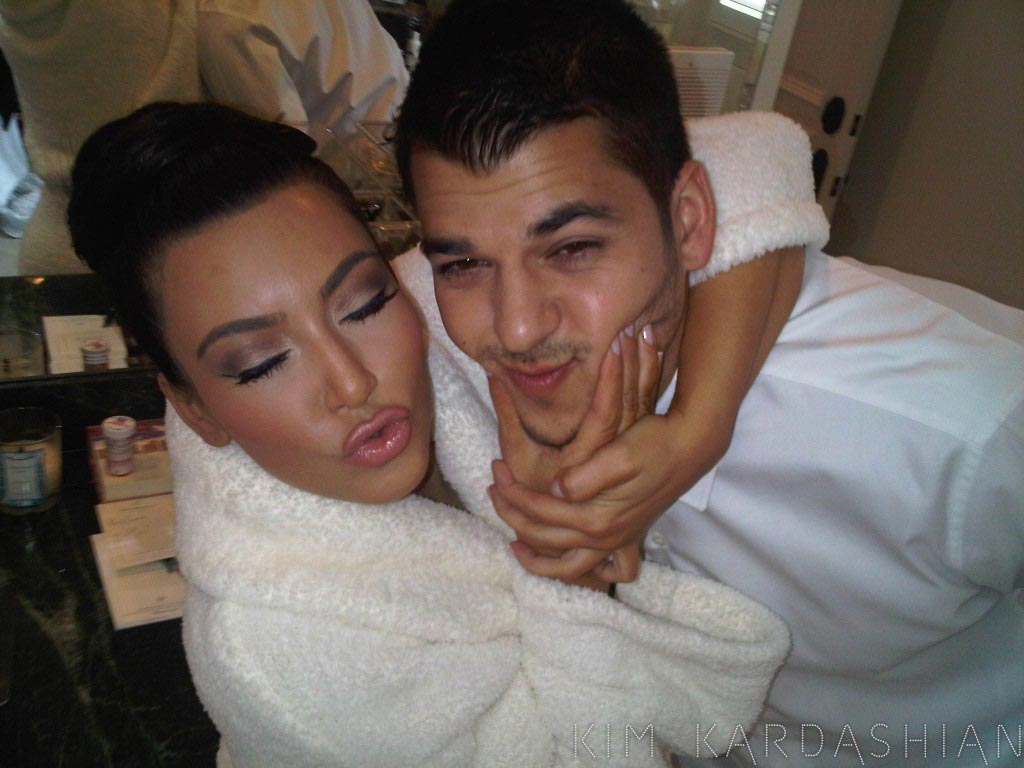 It seems Rob Kardashian's woes have gone from bad to worse as the reality star has now fled and holed up in a hotel purportedly after wishing to estrange himself from his piranha family, including Kim Kardashian who has had all she can take from her 'dead beat' brother.
In a report via Star (yes the bible of tabloid junk) an anonymous source (pimp momma Kris Jenner?) tells that Rob 'blames Kim for a lot of his problems.'
Adding: 'They've never really gotten along, but now their relationship is almost irreparable.'
Khloe Kardashian: I am planning on getting Rob Kardashian evicted.
Rob Kardashian drug addict? Percocet, Norco and Xanax to name a few
The Kardashian family is very mad at Rob Kardashian for being fat
Rob Kardashian: 'I know I'm fat but that's my problem, not yours.'
Sad Rob Kardashian flies to Kim Kardashian's wedding. Looking fat again. 
The accusation comes after Rob recently posted a photo of a blood-soaked Rosamund Pike on his Instagram feed with the caption "This is my sister Kim , the bitch from Gone Girl…"
Making matters scary (and Keeping up with the Kuntashians a ratings favorite no doubt) an insider claims his family 'hasn't been able to find him.'
'Come out, come out where ever you are Rob!'
The same source tells Rob is staying at a hotel named Stay, which couldn't be a better fitting name for a hotel and Rob's predicament if the universe compelled one.
An upcoming show sees our collective media whore Kim telling she has had enough of her brother Rob's issues (the kettle calling the caboose very black?) and that she thinks it's time for the family to stop placating to him.
Tells Kim in the upcoming family saga made for your tv box and healthy mind: 'Everyone licks Rob's ass and does whatever he says,'
'At some point you just have to give it up.'
Slight pause. Repeat the above words- 'give it up.' Continuing….
Current embargoes include no more money for Rob and the threat of cutting him all together out of the family free for all franchise if he doesn't pull his socks up.
Oh no Rob! What are you going to do?
But there's more.
Reports hollywoodlife: It seems that the family is embarrassed by Rob and afraid of how he may affect their image.
"For starters, he is nearing 350 lbs," the source added. "This is a family that prides themselves on looking perfect, but Rob is a mess; he refuses to go to the gym. And with all the drinking and pills, he can't be trusted to behave himself."
Please Rob go to the gym or at least eat one less Oreo cookie for dinner tonight.
What do you think kids, is there a chance for Rob? Or is this just a mirror reflection of what's currently going on in your lives minus the hundreds of millions that will soon see you living in a card box on a desolate street corner called 'Don't Stay'?