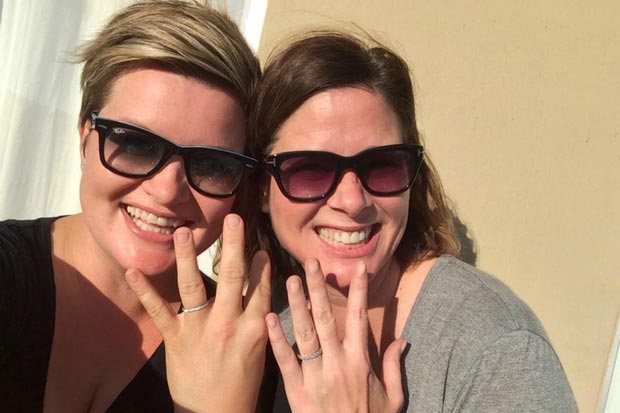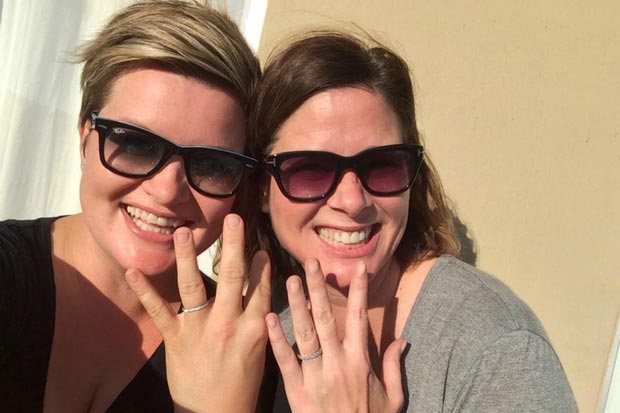 NYC taxi driver, Mohammed Dahbi has been ordered to pay a lesbian couple $10 000 after demanding that they stop making out in his cab.
In making his decision last month, Judge John Spooner ruled that the Dhabi discriminated against the lesbian couple when he told them, 'keep that (behavior) for the bedroom or get out of the cab.'
In essence discriminating against the women because of their sexual orientation.
According to testimony, when the man's passengers declined to abide by Dhabi's requests to desist he then proceeded to call the two women, Christy Spitzer and Kassie Thornton 'b—–s,' 'c—s' and 'whores' when they elected to get out of the cab without paying.
Along with having to pay the two women $10K the judge also ordered the man to attend anti discrimination training as well as pay a $5000 civil penalty to the city.
To date the NYC's Commission of Human rights which brought the action against Dahbi on behalf of the two women has yet to sign off on the ruling. It is believed the agency had a sought a higher penalty than the one that was issued last month.
Offered Spitzer via dnainfo: 'We felt that what happened to us was wrong and he needed to take responsibility for his actions.'
During testimony the women told that on Sept. 18, 2011, Spitzer hailed Dahbi from uptown, directing him to Manhattan's Chelsea district to collect her partner Thornton who had returned from traveling and from there to proceed to Thornton's abode in Sunset Park, Brooklyn.
Having collected the woman's partner, Dahbi proceeded to the couple's final destination when the two women proceeded to kiss each other to the driver's dismay.
In his defense the driver told he had asked the two women to desist because he couldn't keep his eyes on the road because Spitzer and Thornton were kissing 'heavily' and 'touching all over each other.'
Reiterating that he found the couple's behavior 'distracting' and feared it would make him have an accident.
In turn, Spitzer and Thornton both testified that they had just kissed each other with a 'peck on the lips.'
With Spitzer asserting she had just had oral surgery and was tentative about even kissing her girlfriend that day.
After Dahbi gave his ultimatum, Thornton told him that he was discriminating against them because they were gay.
Responded Dahbi in kind: 'Don't make me out to be an a–hole.'
Thornton told the judge that after that comment she didn't feel comfortable, so she got out of the cab, grabbed her luggage and left before her partner also got out. 
When the women refused to pay Dahbi the fare to that point, he hurled expletives at them and sped away.
During testimony, Mohammed Dahbi, a married father of four who has been a cabbie for the past 17 years, insisted that he was not discriminating against the women because they were gay.
He also told the judge that for the last few weeks he had been volunteering at a food pantry for a charity called Metropolitan Community Church, which serves many gay homeless individuals.
Dahbi's lawyer, Ali Najmi, also told his client never once said anything about Spitzer and Thornton's sexuality.
Told Najmi: 'Mr. Dahbi has a standard of decency that he asks all riders in his cab to follow,'
'He has asked straight couples to stop engaging in similar behavior. It can be very distracting for a driver if people are getting hot and heavy in the taxi.'
Offered Judge John Spooner: 'The more likely reason for [Dahbi] stopping the taxicab and directing Ms. Spitzer and Ms. Thornton to stop kissing was, not that he objected to all kissing, but that he was uncomfortable with two women sharing a romantic kiss.'
In Dhabi's written response to the original complaint that the Human Rights Commission filed against him, he also claimed Spitzer and Thornton referred to him as a 'f—— Arab terrorist' and a 'radical Muslim a–hole.'
During the trial, Dahbi declined to reiterate those accusations.
Nevertheless during trial, Dhabi told Thornton had a bias toward Muslims, citing two tweets from her Twitter account.
In a Nov. 7, 2014, tweet, she wrote, 'I found ISIS in Los Angeles on the corner of El Segundo … call DHS!,' along with posting a photo of a street sign for 'Isis Av.'
In a January tweet, she also tweeted that she had seen the final episode of 'Homeland' on her DVR.
I found ISIS in Los Angeles on the corner of El Segundo…call DHS! #toosoon#lastreets pic.twitter.com/O80CkcAMJ3
— Kassie Thornton (@kassiethornton) November 8, 2014
Thornton, an actress, stated that she made the tweets at the suggestion of her agent to be funnier on social media.
Judge Spooner didn't find Dhabi's charge credible and called the tweets 'innocuous.'
Offered TV producer, Christy Spitzer who now lives with her partner in Los Angeles: 'It's a weight that we've carried the entire time,'
'We know that people are discriminated against all the time. We just felt we had to let the driver understand that it's wrong. So he could learn, and he doesn't do it again.'
Najmi, Dhabi's lawyer, said they plan to appeal the decision.
'My client never once mentioned anything about their sexuality and never threw them out of the taxi,'
'In fact, the complaint doesn't even allege that he used any derogatory language about their sexuality and the two women testified that they are the ones who decided to exit the taxi. He wanted to take them to their final destination.'
What do you think kids? Would the judge have made the same ruling had the two women being heterosexual? Does a cab driver have the right to insist on how passengers behave in their cab? Or should we just accept one can be made to accept the behavior or choices of others even if they find them offensive because what may be offensive for me and you is par for the course for two women thrilled to once again be in each other's clutches?