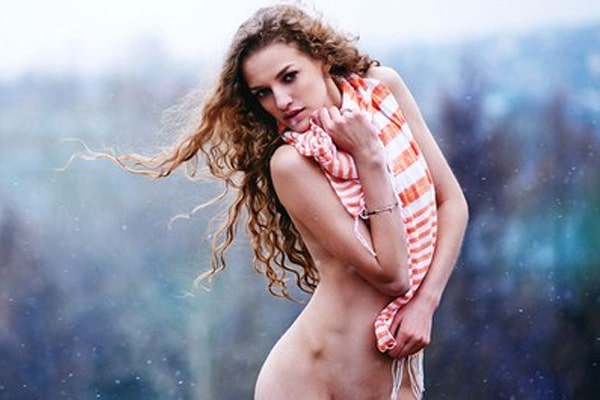 Nineteen year old Russian model Liana Klevtsova has caused an internet sensation after deciding to pose in the buff for a series of images in the Siberian winter in protest to the cost of living in Russia.
Posing in a series of controversial advertisements for Golaya Pravda (the model had previously graced the cover of Vogue) the images address high mortgage interest rates, the rising cost of transportation as well as high fuel costs.
Told the model via the Siberian Times: 'We wanted to send this positive message to people that nothing can bring us down, and the contrast of winter and naked body, we had to show it,'
'People are not ready to fight to lower fuel prices. It's easier for them to buy a smaller car.'
But it wasn't all smooth sailing.
Reiterated the model: 'When mama found out I was doing this, she was strongly against it,'
'She was saying I dishonoured the family with my appearance, and that it was stupid and vulgar. She was crying and begging me to stop all this, but she gradually accepted it.'
Choice images/campaigns show Liana Klevtsova posing outside a bank in red high heels, in front of a gas station as well as riding in a bus.  
In one image the model is seen filling up a large off-road car next to a half-dressed man filling up his little car.
In another image the model poses outside of a bank whilst holding her passport with the advertisement reading, 'I've paid off my mortgage.'
The message tells the model 'is that the government forces people to pay back so much that there is no money left for clothes to wear.'
The average monthly wage in Russia is around 30,000 rubles (approximately $560) after having averaged 112,252 RUB from 1992 until 2015, whilst mortgage rates are up to 18 percent year over year along with gas is 40 rubles per liter.
Noted the model: '….they said on TV that the rouble had dropped, that our country had given up a multi-billion debt to someone who you can't find on map instantly, and that we were going to provide Ukraine with cheap natural gas given that war veterans are being insulted there.
'Then someone called from Sberbank to notify us that a payment was overdue. It was the last straw. We represented it as the strength of Russian nation despite everything and we really wanted to show that we don't care about sanctions and the crisis.'
What do you think? Will Liana's advertising campaign get people to rethink their choices and perhaps bring about change? Or is this just cynical promotion using titillation and economic woes to bring attention to one's cause and brand? But then again why not?