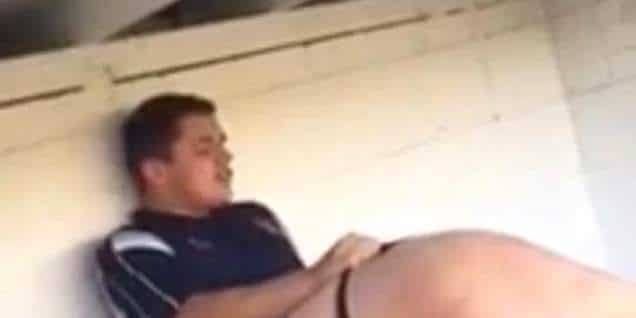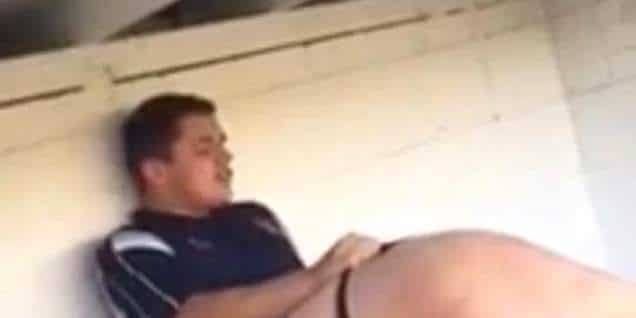 Jay Hart a semi professional soccer player has been sacked after a sex video tape (see below) of the Clitheroe FC football player made the viral rounds.
The firing told club officials came after the 24 year old was 'observed' having sex with an unknown woman in the manager's dugout whilst wearing the official club kit. Indeed.
According to a report via the UK's independent, club officials would catch wind of the tape after it appeared on social media following Saturday afternoon's match 'following the Evo- Stik Division 1 North match at Mossley AFC.
The tape which has left the club in 'disrepute' purportedly shows Hart laughing whilst getting it on with a blonde woman whose face can not be seen. All the while Hart is wearing the team t-shirt with his tracksuit bottoms billowing around his legs.
An audible version of the tape has also made the rounds ( listen below- discretion urged) which appears to betray the striker during the 'heat of the moment.'
@elwardo86 @ltmccall1993 pic.twitter.com/B4cYf8ozGD — Liam Corcoran (@lcorcoran69) April 19, 2015
The tape is thought to have been made after the striker came off the bench in the 73rd minute during Clitheroe's 4-1 defeat in a match which had been billed as 'ladies day' with the hope of promoting the club and attracting more female supporters.
Slight pause. Breathing slow and then faster and smiling towards the heavens…
Responded Clitheroe chairwoman Anne Barker: 'Following a NON-FOOTBALL RELATED incident at Mossley AFC yesterday. Jay Hart has been dismissed from the club.'
Adding: 'I can't have somebody wearing the Clitheroe FC tracksuit bringing us down.
'It has brought the club into disrepute and it's not proper for him to scupper our reputation. I expect our players to act professionally.
'It was brought to my attention on Saturday night and dealt with through the management. I did offer to speak to him myself but Simon (Garner, the manager) said he would take care of it.'
Also having caught wind of the Jay Hart's indiscretions is the striker's girlfriend, Bryony Hibbert, who also happens to be the mother of his two children.
Told the less than thrilled girlfriend: 'Have a bit of decency for the people it's affected. Thank god my kids are too young to read.'
In his defense the 'caught off side' player said: 'I'm full of regret. I'd had a couple of drinks. I was away from everyone and thought I was hidden.'
At present it is not necessarily understood what other 'offers' from competing clubs or potential female fans Jay Hart may have had come his way since his abrupt sacking. Indeed.