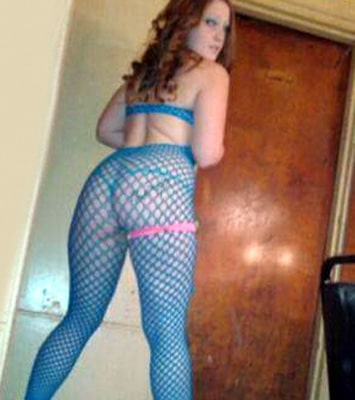 Detroit based stripper, Whitney Blackwell this morning appeared in court where a not guilty plea was entered on her behalf in connection to allegations she stole close to $250K from her cocaine dealer boyfriend, John "Jay" Thomas as well as her role for the at gunpoint abduction of her siblings, 16-year-old Aaron Blackwell and 13-year-old Emma Blackwell in connection to the stolen money.
During her appearance the woman told  presiding judge, Marion Superior Court Judge Shatrese Flowers that she was 27 years old with a ninth grader's education with a 6 year old son who has since been taken away and put into state custody after her arrest last week.
The woman would also tell she made $300 a week as a dancer at a Detroit club and owned a 'house in the ghetto in Detroit' that her ex-boyfriend bought for her.
Blackwell would also tell the court she had no funds to hire legal representation.
She would be arrested last Monday and charged with conspiracy to deal cocaine during a routine traffic stop for driving on a suspended license, the same day her siblings were abducted. The siblings have since been returned after police used phone records to track down their abductors.
At the time the boyfriend who had arranged to have the woman's siblings abducted, had told that Whitney Blackwell had stolen $120,000 in cash, some 4,000 OxyContin pills and a kilogram of cocaine, a cache of $250 000.
Blackwell in turn would claim that she only stole $43,000, which she planned to use to purchase a car and take care of her 6-year-old son.
At present our collective hero is being held on a $250,000 surety bond plus $20,000 cash. If Blackwell posts bond, she'll have to wear a GPS monitor. A trial date is set for July 22.
Blackwell's brother, Stanley Pernell, also faces charges in the case. In total six people face federal charges in connection with the kidnapping plot. 
Images via facebook