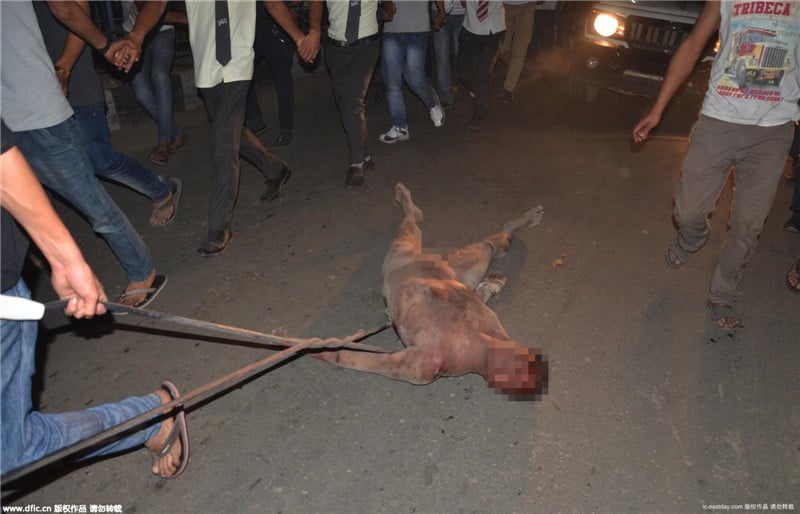 A harrowing scene has unfolded in the city of Dimapur, India, after a thousands plus lynch mob swarmed the city's jail, kidnapped 35 year old man, indicted for rape, Syed Farid Khan, stripped him and then proceeded to mercilessly beat him to death in front a frenzied crowd.
Taking justice into their own hands, the mob took a decisively aggressive stand against the unmitigated tide of sexual violence which has long plagued society and consistently seen women deprecated.
According to a report via indianexpress, a mob in Nagaland barged into the Dimapur Central jail Thursday afternoon, overpowered jail security, tied up their target, a local trader, before dragging him for seven kilometers and beating him along the way before the man mortally succumbed to his injuries.
The thousand plus lynch mob's impromptu violence came on the heels of accusations against their victim who is said to have raped a student at a local women's college on February 24.
Even after the man had been killed the mob proceeded to pelt police with stones, injuring several officers after authorities sought to reclaim the victim's body. Eventually police would resort to opening fire as the mob then sought fire to a battalion bus.
From there the mob then headed to Purana Bazar area, where the rape-accused had his shop, and reportedly set several shops and houses on fire.
Nagaland Chief Minister T R Zeliang, would implore the media to desist in sharing images of the lynching in a bid to prevent any more violence.
Reiterated town police superintendent Meren Jamir: 'The situation is very tense,'
'We are trying our very best to restore order.'