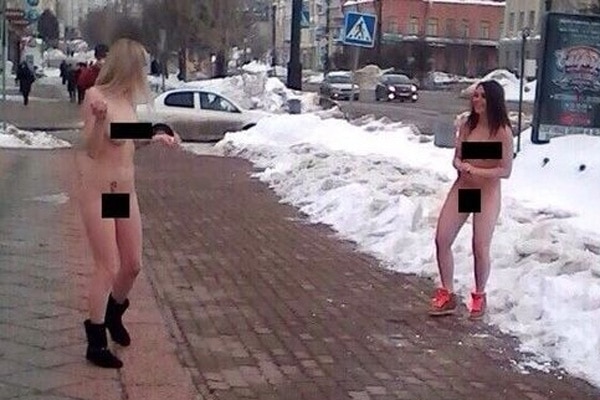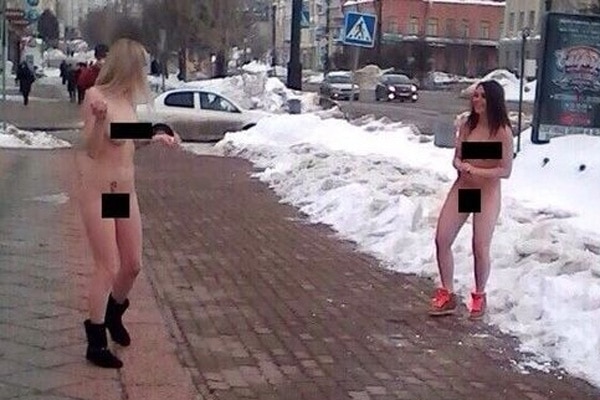 Two aspiring Russian models, Alina Zotova and Lika Ignatyeva have been fired from their jobs at a local department store after naked images of them went viral after agreeing to an impromptu photoshoot in freezing conditions.
The photoshoot which shows the two young women frolicking and holding hands amidst thawing snow along the streets of Khabarovsk would lead to their employer, a local department store seeing red and giving the pair the axe.
According to a report via the UK's mirror, the two aspiring models were on their lunch break when they volunteered for their photographer pal, Dimitry Kulishenko, 30 to appear in a photo session.
Yet halfway through the pair decided to strip completely leading to passing shoppers to express shock.
Told shopper, Inga Kuznetsova, 45: 'I was just coming out of the grocers when I saw these two girls parading around the snow,'
'They were laughing and giggling and there was a man taking photos of them.
"I thought they must be on drugs because it clearly wasn't a professional shoot."
Or was it?
As crowds gathered and begun taking their own snaps (naturally), police turned up to tell the girls to cover up.
A police spokesman said: 'Officers instructed the girls to put their clothes on and fined them £5 for disturbing the peace.
'The photographer was allowed to go on his way as he hadn't done anything wrong.'
Nevertheless pictures of the session would soon go viral (are you surprised?) and it wasn't too long before the girls' boss at the department store where they worked saw them.
Offered a store spokesman: 'The pair were called in to explain their actions and were then dismissed for bringing shame to the city and to Russia.'
Retorted one of the models: 'It was only a bit of fun.
'I don't know how we'll get another job now as the photos are everywhere.'
What do you think? Were the girls unfairly fired? Do you really think the 'models' will have a hard time getting a new job?