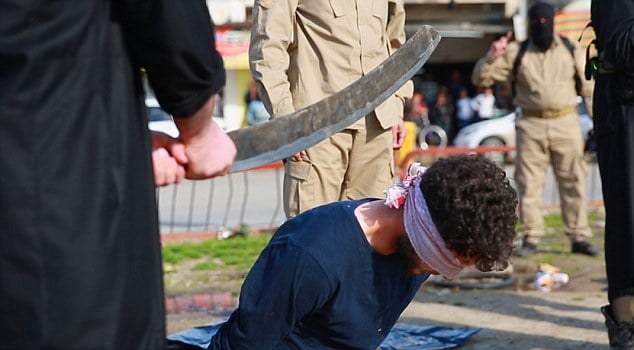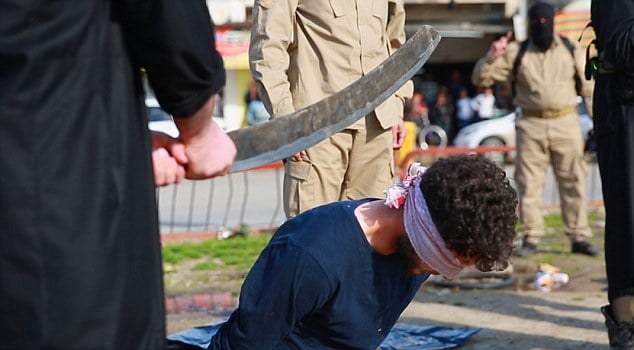 Islamic terrorist group ISIS have released images purporting to show the beheading of three blinded men, accused of homosexuality and blasphemy in an unnamed northern city of Iraq.
Under Islamic State-imposed sharia law, homosexuality is punishable by death and follow the release of similar postings where accused gay men have been pushed off the top of tall buildings and then had the bodies pelted with rocks with onlookers below.
Yemeni boy locked in cage and set alight in ISIS imitation by children.
ISIS throw off another gay man from top of building. Crowds cheer.
Next generation of ISIS video shows 5 year olds training learning how to kill
Pictures: ISIS mob drag three Syrian soldier corpses through streets
Video: ISIS beheads 21 Egyptian Christians in Libya.
Video: ISIS parades 17 Kurdish fighters in cages. Promise to burn alive
Video: ISIS execute Syrian prisoner shotgun point blank.
Video: ISIS behead man for witchcraft. Large crowd gather.
The latest images show the men, forced to their knees as they await to be publicly beheaded by a masked sword wielding executioner at a traffic roundabout with a crowd of people looking on.
Prior to their execution, an elderly man off to the side uses a microphone to read to the crowd the men's offenses before the executioner steps forwards with a rusty blade poised above the men's heads.
Accompanying captions follow, telling that the trio were then beheaded – two for engaging in homosexual acts and the third for alleged blasphemy.
That said no actual images of the beheading are released.
The photos are said to allegedly come from the Nineveh province of Iraq, which became controlled by ISIS last June.
The latest act comes in a succession of equally violent actions where the Islamic group has chosen to enact brutal interpretations of Islamic law, with many of the incidents photographed and videotaped and widely released on social media, presumably in anticipation of the reaction such scenes will have on supporters and those who oppose the group.
Unconfirmed social media reports have suggested two of the men, who look to be in their late teens or early 20s, were a couple.
The beheadings have not been independently verified.
NSFW: ISIS burns captured Jordanian pilot alive video and photos
NSFW: ISIS throw man off roof for being gay then stone him.
NSFW: Female Kurdish freedom fighter Rehana beheaded by ISIS
How Jennifer Williams became the ISIS pin up girl. Blonde tattooed girl from Texas
Aliaa Magda Elmahdy, Feminist activist defecates and bleeds on black ISIS flag
Video: Exiled Iranian women pose nude to protest against sexual oppression
#ISISmediaBlackout: James Foley beheading. Should the media blackout ISIS propaganda?
ISIS orders female genital mutilation in Iraq. Girls from 11 and up
NSFW: Why is ISIS posting mass killing of Iraqi soldiers?