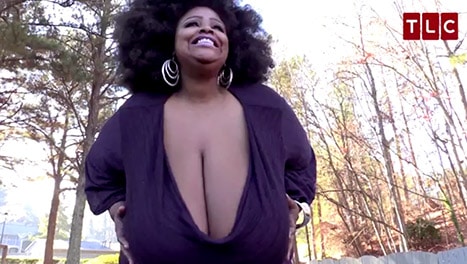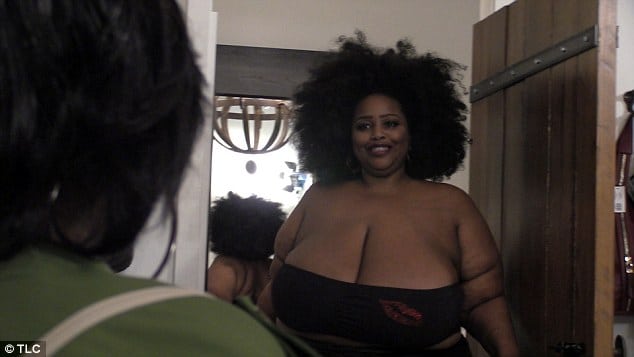 Kristy Love a 36 year old adult massage therapist based in Atlanta, Georgia who happens to sport an eye dropping 48NNN breasts has told TLC's Strange Love that she is bereft of a boyfriend despite her attempts to find one. The right one that is….
Although the self confessed masseuse earns upwards of $1000 a day 'squishing' and 'smothering' men with her ample breasts Kristy felt compelled to turn to The Learning Chanel's hit reality show 'Strange Love,' in an attempt to find herself a man.
Told the woman in an upcoming episode: 'I'm looking for true love,'
'Someone who I love, and who loves me. My boobies do not need to be alone, it's time for them to find a man.'
But what might be Kristy's best natural asset might actually work against her, thwarting men who might be overwhelmed or attracting men who purely see the woman as simply as a sex object.
Of her breasts which weigh a compelling 15.8 pounds each (yes kids, Kristy has weighed them) Kristy Love takes note of some of the unavoidable hazards, especially when it comes to being in the kitchen:
'Sometimes they get in the pot, sometimes they get in the pan, sometimes they get caught on the burner.'
Indeed.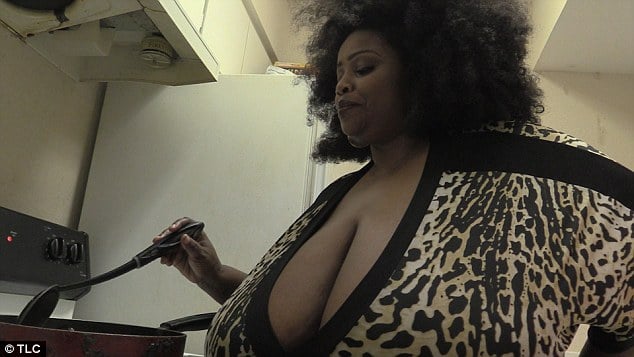 On the flip, Kristy admits her breasts or rather her cleavage can be rather useful for some matter of fact mundane things, including in  absence of a handbag, wedging her perfume, cell phone, car keys along with snuggling her driving license between her breasts.
Although Kristy says she is on the hunt for a man who can 'redirect his focus' on her, instead of her chest, she proudly jiggles her enormous assets as she speaks, and shows them off in an array of low-cut blouses.
Growing up, Kristy admits having being 'embarrassed' and 'ashamed' of her breasts, which developed when she was only eight years old, and would habitually wear multiple bras to keep them under wraps.
But since she developed a career as a massage therapist, and introduced her bosoms into her adapted vocation, she's embraced them wholeheartedly.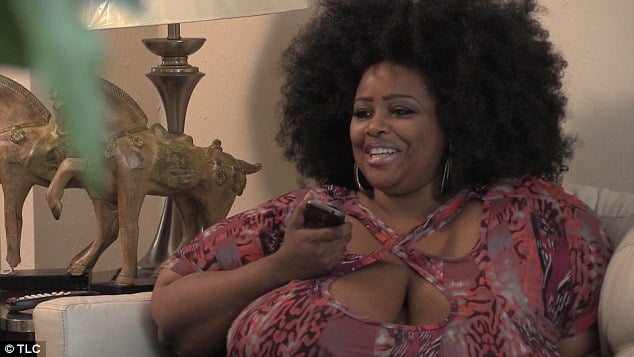 According to an interview with The Mirror in 2013, Kristy makes an much as $1,300 daily, treating clients to the 'Happy Man Works', which involves 'squishing' and 'smothering' them with her breasts. 
Some clients even enjoy 'being hit over the head' with them, or have her glide over their bodies covered in oil.
'I have to keep an eye out when I'm squashing someone,' she explained. 'I look at their feet and their fingers to make sure there is still movement there and they're still breathing.'
That said, Kristy has been told by doctors her weight poses some degree of risk, at 320 pounds of developing high blood pressure and heart disease. Something she isn't too worried about. Yet.
Never mind the health risks associated with too large breasts on a woman's back and spine as well chances of incurring breast cancer.
While big breasts do run in the family – her eldest sister had hers reduced from a 52NN to an H-cup – Kristy proudly tells she has the largest. She says her relatives are 'totally against' her massage vocation and consider it 'immoral'.
What do you think? Is Kristy Love bound to eventually find love one day? Or is she using the very thing that she is most proud of from keeping some hopeful man at bay…?