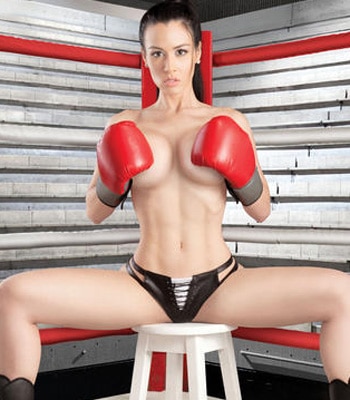 Venezuela's Diosa Canales, a former Playboy model has ended up in hospital after one of her recent breast implants burst open after falling during a recent pole dance.
At the time the 28 year old 'top heavy' woman lost her grip whilst performing, landing on her chest which served to cushion her fall but which led to one of her new breasts imploding.
Local media reports the fall came after the former model moved to the athletic sport of pole dancing after modeling where she quickly built up an army of fans.
After being taken to hospital following the accident, Canales, (real name:Dioshaily Rosfer Canales Gil) sent the following message to followers: 'My loves, yesterday I was operated on in and emergency, while I was practicing my pole dancing I had a fall and one of my prosthesis burst. 
'I want to tell everyone not to worry about me though, I'll be fine.'
Naturally Diosa also posted images of the surgery.
Canales, who has more than one million Twitter followers and 500,000 Instagram followers, became an internet phenomenon in August 2014 after she stripped off in front of a twitcam.
In less than 12 minutes, 30,000 people had tuned in — until she got censored by Twitter.
She is also notorious for promising to get naked if her country's national football team wins a football tournament. 
Isn't it time you also sneak peaked Diosa pole dancing too…?