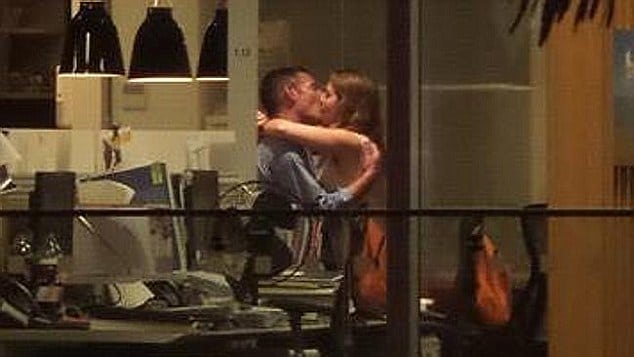 It seems in the end the stress of being found out was too much for two Christchurch office sex workers, with reports that the interluding pair who caused uproar after their clandestine romp became public are no longer working at insurance firm, Marsh Ltd .
Christchurch office sex worker husband sacked.
Christchurch office sex video: He's married, she's engaged and they didn't turn up to work
Video: Christchurch office sex caught on camera from bar across the road
According to a report via the nzherald the pair, a 50 year old senior married manager and and an engaged English born 25 year old woman have not returned to the office since the evening of the discovery of their romp, the world over.
Affairs would become untenable both at the office and personally for the pair after the prestigious insurance outlet was chagrined at the discovery of the pair's shenanigans which would become public fodder after the pair engaged in physical illicit behavior in full view of the Carlton Bar and Eatery across Papanui Rd.
Unfortunately for the outlet and the individuals involved, the pairs act would be recorded and shared the world over, bringing a measure of disgrace to the outlet and the couple.
Since leaving his place of employment, whether willfully or because he was encourage to leave (aka fired?) the unnamed senior executive has made no public comment, despite press hounding the man's place of residence.
It is understood the affair brought havoc to the man's wife and their two children with the wife reportedly dumbfounded. It is not necessarily understood if the man is still living at the family home.
The woman would also tell that she was saddened by her actions, insisting that she had broken up her engagement in the weeks preceding her tryst with the senior office manager. That said it is understood the woman has since moved out of the house where she had been staying close to her fiance. Define close?
Since the illicit rendezvous made world headlines, the insurance broker has told it has conducted an internal investigation. Whether the investigation involved the pair being censored, put on temporary leave or permanently fired has not been disclosed.
Offered a company spokesperson, still reeling from the explosive revelations, 'we can not provide any comment at this time.'
According to a report via NZME. News Service the pair had met while traveling in Australia, and had been 'on break' at the time and that the woman's engagement had not been officially called off.
Offered a source: 'She is a beautiful person but she's been such a silly girl who has made such a silly mistake that has had such massive repercussions for so many people.'
The woman is said to have been mortified by how the affair was exposed so publicly.
'She is not proud at all,' said one person close to her. 'She wants to just cut all ties with everyone.'