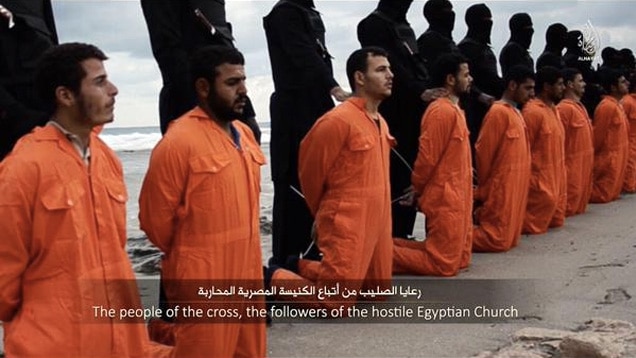 In the ongoing wars of public relations of shock and awe, militant Islamic group, ISIS has released a video purporting to show the beheading of 21 Egyptian Christians in Libya.
The video, released Sunday afternoon, shows ISIS fighters dressed head to toe in black, marching the captives, all wearing orange jumpsuits, to a beach.
From there 21 men are seen being forced onto their knees before being beheaded by the militants standing behind them.
Video: ISIS parades 17 Kurdish fighters in cages. Promise to burn alive
Video: ISIS execute Syrian prisoner shotgun point blank.
Video: ISIS behead man for witchcraft. Large crowd gather.
NSFW: ISIS burns captured Jordanian pilot alive video and photos
NSFW: ISIS throw man off roof for being gay then stone him.
NSFW: Female Kurdish freedom fighter Rehana beheaded by ISIS
How Jennifer Williams became the ISIS pin up girl. Blonde tattooed girl from Texas
Aliaa Magda Elmahdy, Feminist activist defecates and bleeds on black ISIS flag
The UK's dailymail reports the extremely graphic video first appeared on the Twitter feed of a website that supports Islamic State.
Reads a caption on the five-minute video read: 'The people of the cross, followers of the hostile Egyptian church.'  
Before the killings, one of the militants stood with a knife in his hand and said: 'Safety for you crusaders is something you can only wish for.' 
Libyan parliament confirmed the deaths yesterday, when photos of the execution were published by an ISIS-affiliated magazine.
The 21 men, Egyptian Christians working in Libya, are believed to be the same men who came to disappear last month, with the Islamic State claimed responsibility for the abductions shortly afterwards. 
The Egyptian guest workers are believed to have been abducted from the Libyan city of Sirte during two raids in December and January, apparently 'in revenge for' two women allegedly imprisoned by Coptics for converting to Islam.
'Urgent. Soldiers of the Islamic State captured 21 Christian crusaders,' the jihadists said in a statement released alongside three pictures of the men.
Three pictures showing several men were published alongside the statement, which did not specify when the men were abducted and did not reveal their nationality.
The statement did not list any demands for the release of the men, but said they had been taken 'in various areas of Tripoli Province'.
The Egyptian foreign ministry confirmed that 20 men had been kidnapped in two separate incidents in Libya, but did not specify when they had been abducted nor their religious affiliation. 
Tens of thousands of Egyptians work in Libya, mainly in the construction sector, and they have been targeted as the country has descended into chaos. 
The beheadings come after a report earlier this week via Daily News Egypt that Egyptian Prime Minister Ibrahim Mehleb told the hostages' families that his government would 'spare no efforts to protect its sons and defend their rights.'
Once again it is not understood why or how the operative are able to continue to hem their garish brand of violence and whether fellow Islamic states, enmeshed with Sunni and Shiite conflicts are necessarily keen or able to bring a stop to the violence, which continues to make its way to Western nations. But that too may be by design…?
 Video: Exiled Iranian women pose nude to protest against sexual oppression
#ISISmediaBlackout: James Foley beheading. Should the media blackout ISIS propaganda?
ISIS orders female genital mutilation in Iraq. Girls from 11 and up
NSFW: Why is ISIS posting mass killing of Iraqi soldiers?