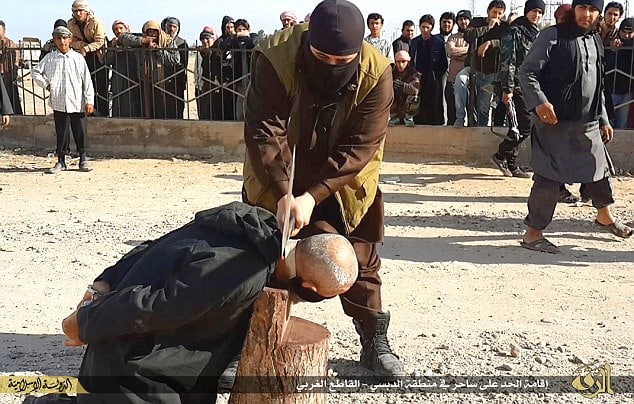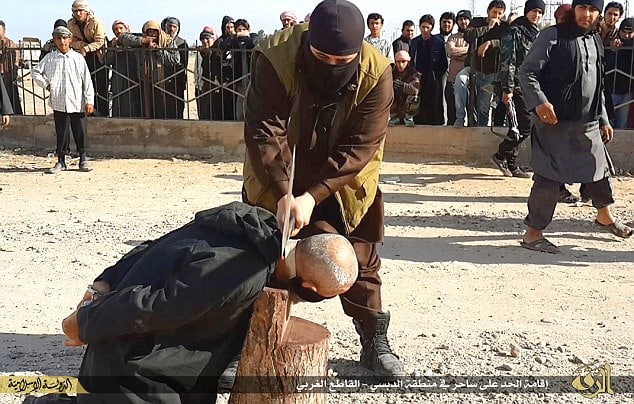 Militant Islamic group ISIS have beheaded a man in front of packed crowds after reports that the man was practicing withcraft.
The execution, purportedly for invoking magic, 'sorcery,' comes after a series of public executions including a recent execution of a man by throwing of a roof and then stoning after accusations he was homosexual.
NSFW: ISIS burns captured Jordanian pilot alive video and photos
The latest execution took place outside of ISIS stronghold, de facto capital Raqqa, in rural area Aldbsa in front of a large crowd where it would later be disemminated by ISIS as well as anti-ISIS Syrian activist group Raqqa is Being Slaughtered Silently.
The unnamed man's execution, a man thought to be in his 60's, balding with a long grey beard would be summarily released by ISIS affiliated media as has become the custom by the group which seeks to ratify public opinion with the dissemination of shocking video.
One image shows the elderly man being led to the execution site by militants, including one who appears to be a young teenager. Around the group are masked militants wielding assault rifles.
Another image shows a bearded cleric reading out the charges against the man, whilst another image shows him kneeling on the floor with his arms bound behind his back, his head resting on a chopping block and an axe just millimetres from his neck.
Other images show a crowd of dozens of onlookers pressed up against metal railings so they can get a closer look at the gruesome scene.
The witchcraft execution came just days after images were released on a blindfolded man was seen being thrown to his death from a building inside Raqqa after being accused of homosexuality. 
The shocking images appeared to show ISIS militants hurling the man off the seven-story building in the town of Tal Abyad in Raqqa, supposedly in punishment for him having a 'homosexual affair'.
The man apparently survived the fall, but was stoned to death by a waiting crowd at the foot of the tower block. 
Video of that incident would then be followed by that of a horrendous video depicting the callous burning of a captured Jordanian fighter pilot inside a cage. A video which would lead to further condemnation of the group who continue to unabashedly use social media to promote their rigid agenda as well as galvanize sympathy and antipathy towards them.
NSFW: ISIS burns captured Jordanian pilot alive video and photos
NSFW: ISIS throw man off roof for being gay then stone him.
NSFW: Female Kurdish freedom fighter Rehana beheaded by ISIS
How Jennifer Williams became the ISIS pin up girl. Blonde tattooed girl from Texas
Aliaa Magda Elmahdy, Feminist activist defecates and bleeds on black ISIS flag
Video: Exiled Iranian women pose nude to protest against sexual oppression
#ISISmediaBlackout: James Foley beheading. Should the media blackout ISIS propaganda?
ISIS orders female genital mutilation in Iraq. Girls from 11 and up
NSFW: Why is ISIS posting mass killing of Iraqi soldiers?