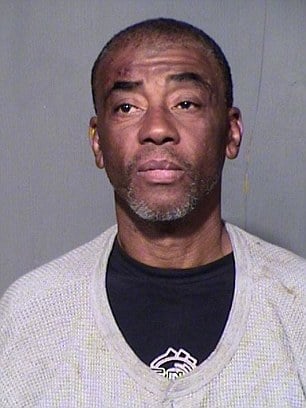 Tilfert Darrell Vaughn a 54 year old Phoenix, Arizona man has been arrested after purportedly breaking into the apartment of a 27 year old woman he had met at a bar and raping her at knifepoint whilst her partner lay next to her in bed.
Police say Vaughn broke into the couple's apartment and sexually assaulted the unnamed woman while holding a large serrated knife to her throat.
Told Vaughn at the time of the attack to the woman: 'Now you have a baby. Bless it and take care of it.'
Phoenix police say the alleged incident took place on November 5 in the apartment the woman shared with her girlfriend.
Court records show the woman's 30-year-old partner woke up when Vaughn allegedly got in to the bed and was injured when her hand and fingers came into contact with Vaughn's knife as she resisted her partner's assault.
The partner would later require extensive surgery to repair severed nerves. 
Both women told police that they feared Vaughn would kill them if they did not do as he said. 
The inflicted women told police she first woke up and saw the suspect standing naked inside her bathroom holding a knife.
The raped woman would further claim Vaughn then ordered her to lie on the bed as he proceeded to sexually assault her.
The alleged victim said he told her not to look at him as he went to the bathroom before he dressed and left.
The woman's partner inflicted with injury would relent and witness the raping of her partner fearing for their imminent survival.
Police say Vaughn's DNA matched physical evidence taken from the woman's forensic exam.  
Tilfert Vaughn denies going to the victim's apartment and denies raping her.   
He is facing charges of rape, sexual assault, aggravated assault, aggravated assault with a deadly weapon, kidnapping and burglary.
Investigators also believe that Vaughn took several items from the couple's apartment, including sunglasses, toiletries, beer and food, according to AZ Central.
Vaughn is set to attend a preliminary hearing next week. Search engines would indicate that Tilfert Vaughn has been previously arrested in the past and registered as a sex offender.