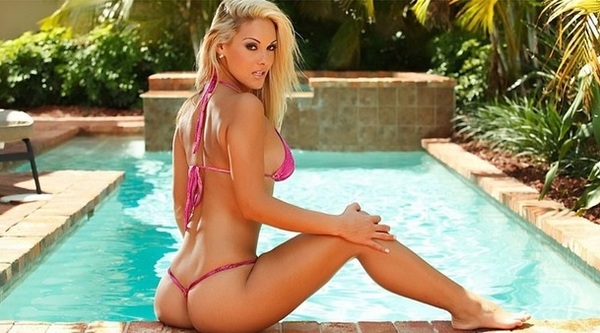 Bulgarian model, Ralitsa Ivanova, might be considered the sexiest Bulgarian alive but that might not necessarily make her the safest driver behind an automobile either.
Then again perhaps the former Maxim cover model might be excused by her fans after a heavy night of drinking led the buxom beauty finding herself astray and weaving aimlessly on Florida's route US 41 circa 3.45 am, Wednesday morning.
This in turn led to passing motorists calling cops, describing a black BMW driving in the wrong direction. And how.
When cops finally pulled our collective hero over they came across the disheveled woman reeking of 'a very strong odor of an alcoholic beverage' along with 'glassy,' 'watery' and 'bloodshot' eyes.
Questioned, Ivanova proceeded to explain she was a model (naturally) along with showing cops a text message from her phone where she had been advised not to take a breathalyzer or a field sobriety test.
To Ivanova's dismay the model was made to take a sobriety test which she failed miserably before being arrested and charged (oh well…) with DUI.
Ralitsa Ivanoca would be released from the Land O' Lakes Jail around 1pm on Wednesday, presumably after sleeping off her excesses…
Ivanova, who also goes by Rail, according to a report via the UK's dailymail was named as Bulgaria's representative in Esquire's 'Sexiest Woman Alive Atlas.'
According to her entry, Ivanova is 'rumored to be inspiration for the word bodacious.'
Ivanova moved to the US at the age of 19 and 'owes her exotic looks to Bulgarian, Russian and Italian ancestry', according to the bio on her website where one can also acquire t shirts bearing the model's image. 
Notes the businesswoman: 'She remembers that it took her a while to get used to the American environment, but today she loves her glamour life in the beautiful city of Tampa. 
'While having cocktails with friends on the beach, a photographer noticed her and offered her to shoot for a local calendar. 
'She gave it a try and that's how her professional modeling career started.'
Ralitsa Ivanova is now 'working on building and expanding her own brand'. Indeed.