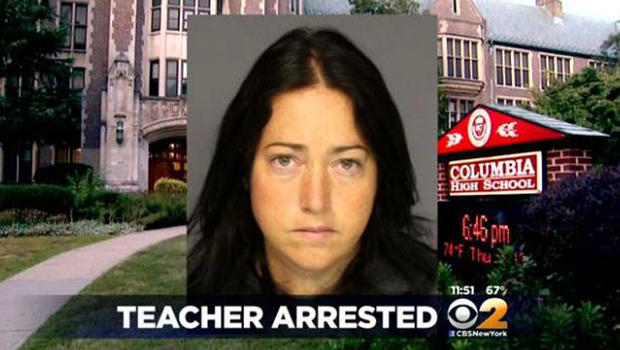 Nicole DuFault a 35 year old former Columbia High School, Maplewood, NJ school teacher has been indicted by a grand jury after allegedly having sex with six underage male students along with making a sex tape of her encounters.
Prosecutors have told that the the victims were between 14 and 15 years old at the time of the incidents reports nj.com
The indictment chronicles up to 40 incidents which allegedly happened in 2013 and 2014 in the single mother of two young son's car and school campus, including one episode of the teacher performing oral sex on a minor caught on tape.
Nicole Dufault, teacher arrested for sexually assaulting three 15 year old students in car.
The Maplewood, N.J., teacher was caught in September and originally charged with having sex with three students. But two more victims were discovered shortly after and a grand jury, which indicted the teacher on Tuesday, found a sixth.
Despite the video evidence, which DuFault's attorney claiming they had yet to see, DuFault's defense team plan to showcase a 'vigorous defense' that may focus on the teen boys as the aggressors.
Kids do you wonder for a moment if there's a blindspot in that defense logic, portraying minors as aggressors? Can minors ever be sexual predators, especially because their gender happens to be male? Would any defense team be offering that guise if the genders happened to be the opposite?
Offered attorney Timothy Smith via NJ.com: 'If the video depicts certain things happening … that doesn't mean that my client's not innocent,'
'People are victimized by juveniles all the time.'
DuFault, who is free on $500,000 bail, was a language arts teacher at Columbia High School in Maplewood before her arrest in September.
DuFault's two boys, ages 2 and 4 since her September arrest are now in state custody, reports CBS.
Her next court date is set for March 6.