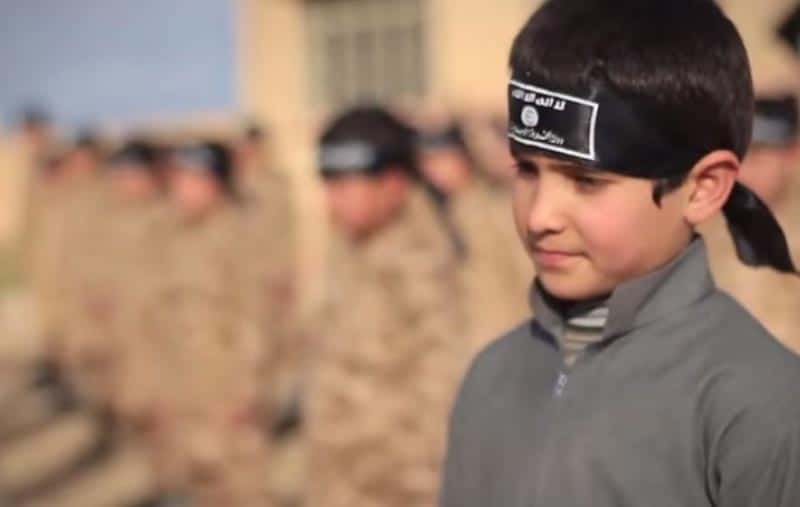 ISIS have released a 9 minute video (see below) showing circa 70 children, some as young as 5 years old clad in camouflage participating in training drills.
Billed as the next generation of ISIS fighters the children are thought to be the children of ISIS fighters.
The video shows the children who don traditional ISIS black headbands  answering questions about religion, reciting verses from the Koran whilst all the while being groomed for mortal combat against a back drop of Arabic music.
Reports the UK's dailymail: As they bend and stand to attention as instructed, others stand behind them holding up flags.
The 'teacher' – also in camouflage – asks questions and the children shout the answer in unison.
The boys are also seen as they pray in rows – but chillingly, they are led by a teacher who prays in front of a pair of guns. 
Pictures: ISIS mob drag three Syrian soldier corpses through streets
Video: ISIS beheads 21 Egyptian Christians in Libya.
Video: ISIS parades 17 Kurdish fighters in cages. Promise to burn alive
Video: ISIS execute Syrian prisoner shotgun point blank.
Video: ISIS behead man for witchcraft. Large crowd gather.
NSFW: ISIS burns captured Jordanian pilot alive video and photos
NSFW: ISIS throw man off roof for being gay then stone him.
NSFW: Female Kurdish freedom fighter Rehana beheaded by ISIS
According to a report via the nypost, the video which has yet to be independently verified is said to have been filmed at training center, Al Farouk Institute for Cubs in Raqqa, Syria.
The video illustrates the charge in a UN Human Rights Council report last year that determined that the Islamic State 'has established training camps to recruit children into armed roles under the guise of education.'
'At the camps, the children recruited received weapons training and religious education," the report stated. "The existence of such camps seems to indicate that ISIS systematically provides weapons training for children.
'Subsequently, they were deployed in active combat during military operations, including suicide-bombing missions,' it stated.
The clip provides a snapshot of how ISIS is taking innocent young children and turning them into living embodiment of the group's vehement rhetoric reminiscent of Nazi Germany's Hitler Youth, experts contend.
Offers Ryan Mauro, a national security analyst for the Clarion Project, a New York-based research institute that tracks global terrorism: 'For ISIS supporters, this is like signing your kid up for the best private school.'
Adding: "ISIS is emphasizing its child recruits because it obviously makes for good footage but also to emphasize this is a generational struggle,'
'You can kill off the current leaders and fighters, but their kids will fight on. It makes it harder to celebrate ISIS' losses if you know their manpower will be replenished with brainwashed children.'
The video follows a recent report via syriadeeply.org in which one man told how his young son was forcibly conscripted along with other boys where he would be instructed on how to decapitate blond, blue-eyed dolls with kitchen knives.
Images via twitter
How Jennifer Williams became the ISIS pin up girl. Blonde tattooed girl from Texas
Aliaa Magda Elmahdy, Feminist activist defecates and bleeds on black ISIS flag
 Video: Exiled Iranian women pose nude to protest against sexual oppression
#ISISmediaBlackout: James Foley beheading. Should the media blackout ISIS propaganda?
ISIS orders female genital mutilation in Iraq. Girls from 11 and up
NSFW: Why is ISIS posting mass killing of Iraqi soldiers?