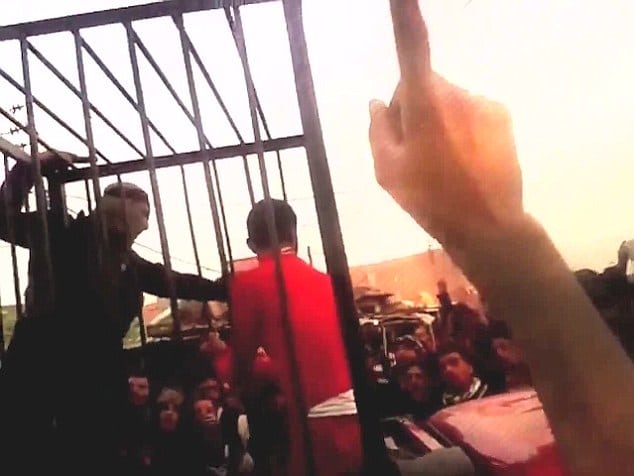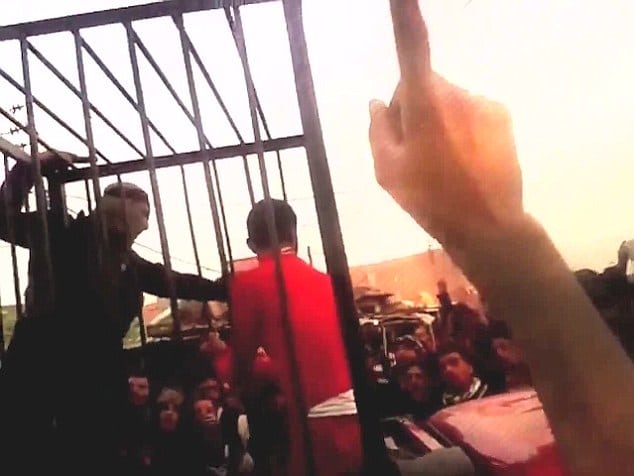 Militant Islam group ISIS have released disturbing video (see below) of 17 Kurdish fighters being paraded in cages through north-eastern Iraqi city Kirkuk with the expressed claim that they are now set to be burned alive.
The procession comes in light of ISIS' call to Islamic procession and the exodus of infidels: Qafas Al-Harq  (translated The Cage Of Burning).
Jeered by militants lining the streets, the Peshmerga fighters, donning orange jumpsuits and shackled in cages reports the UK's dailymail are likely to meet the same fate that befell Jordanian prisoner and downed pilot Lieutenant Muath al-Kaseasbeh.
Video: ISIS execute Syrian prisoner shotgun point blank.
Video: ISIS behead man for witchcraft. Large crowd gather.
NSFW: ISIS burns captured Jordanian pilot alive video and photos
NSFW: ISIS throw man off roof for being gay then stone him.
NSFW: Female Kurdish freedom fighter Rehana beheaded by ISIS
How Jennifer Williams became the ISIS pin up girl. Blonde tattooed girl from Texas
Aliaa Magda Elmahdy, Feminist activist defecates and bleeds on black ISIS flag
The march through the oil rich district comes after the enclave managed in recent weeks to gain a foothold after mounting repeated attacks.
The parade is thought to be retribution for Kurdish forces having dragged the bodies of ISIS fighters through the the streets of the city in the Kurdistan region of Iraq earlier this month.
The four minute long video, released via social media in the latest prong of intimidation and polarization via widely disseminated visuals depicts the procession of up 17 Kurdish fighters, each carried one by one on the back of white pick up trucks with ISIS flag waving militants brandishing AK 47's.
The latest footage has also led to questions as to if and when US trained Iraqi forces will be able to retake the area where conflicting alliances within the Sunni and Shiite population has led to consternation.
Retorted a US presidential press conference: 'Our coalition is on the offensive, ISIL is on the defensive and ISIL is going to lose.' 
Commentators on social media have once again expressed their wonder as to why ISIS has not been taken out and the will of the Western alliance. A will that ISIS will continue to test in a slew of public relations videos aimed at raising the stakes.
 Video: Exiled Iranian women pose nude to protest against sexual oppression
#ISISmediaBlackout: James Foley beheading. Should the media blackout ISIS propaganda?
ISIS orders female genital mutilation in Iraq. Girls from 11 and up
NSFW: Why is ISIS posting mass killing of Iraqi soldiers?