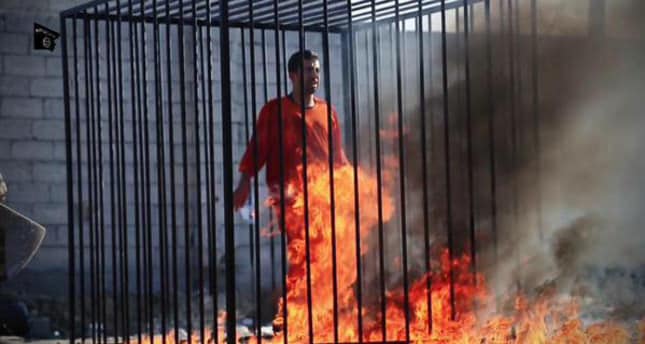 Islamist group ISIS has released a harrowing video of Jordanian pilot Moaz al-Kasasbeh, 26, being burned alive in a cage. Dubbed the 'Healing of the Believers' Chests,' the 22 minute long video was released on social media on Tuesday. The video is the latest in a string of shocking and violent testimony to the resolve of ISIS and presumably part of its public relations aresenal which has become equally part of its strategy to control territory in troubled quarters within Iraq and Syria.
The killing comes less than a week after ISIS reached a tentative deal with Jordan to release the 24-year-old lieutenant in exchange for Sajida al-Rishawi a terrorist captured in Amman in 2005.
According to a report via gawker, the Al-Kasasbeh's F-16 fighter jet—part of the U.S.-led coalition against ISIS—was shot down in late December in northern Syria. According to Jordanian TV, al-Kasasbeh was killed a month ago. The assertion comes after one of the pilot's relatives told Reuters that the Jordanian government had notified the family about the lieutenant's death. 
The video (you can see it here) begins with several minutes of ISIS propaganda, including footage of killed ISIS members being removed from the rubble of buildings presumably destroyed during coalition airstrikes. In the first half of the video, Al-Kaseasbeh is also shown being interviewed. He appears to have a bruise on his left eye.
From the video then cuts between close-ups of the captive al-Kasasbeh and rubble-covered ISIS members as he awaits his fate standing locked in a cage before then being doused with accelerant. 
A masked ISIS member then lights a line of hay leading to the cage before al-Kasasbeh is next shown slowly burning to death. After he's stopped moving, a bulldozer crushes the cage and covers it with rubble.
Since the showing of the video, buzzfeed reports that there have been protests across Jordan, particularly in the southern part of the country where al-Kaseasbeh's tribe is from. The protesters were reportedly calling for the government to avenge the pilot's death and to execute the captives ISIS wanted exchanged for his release, including al-Rishawi.
The video was released as Jordan's King Abdullah II was in the U.S. meeting with Secretary of State John Kerry and a recent string of ISIS defeats as it resorts to new methods to maintain and highlight its cause of rigid fundamental Islamism. A stance that the US and its allies are being once again and again reminded of….
Jordan has since said that it will take "revenge" and execute Rishawi tonight as the latest brutal act at the hands of ISIS makes the media rounds. As it very well anticipated…
Gruesome photos of the execution are embedded below.
NSFW: ISIS throw man off roof for being gay then stone him.
NSFW: Female Kurdish freedom fighter Rehana beheaded by ISIS
How Jennifer Williams became the ISIS pin up girl. Blonde tattooed girl from Texas
Aliaa Magda Elmahdy, Feminist activist defecates and bleeds on black ISIS flag
Video: Exiled Iranian women pose nude to protest against sexual oppression
#ISISmediaBlackout: James Foley beheading. Should the media blackout ISIS propaganda?
ISIS orders female genital mutilation in Iraq. Girls from 11 and up
NSFW: Why is ISIS posting mass killing of Iraqi soldiers?