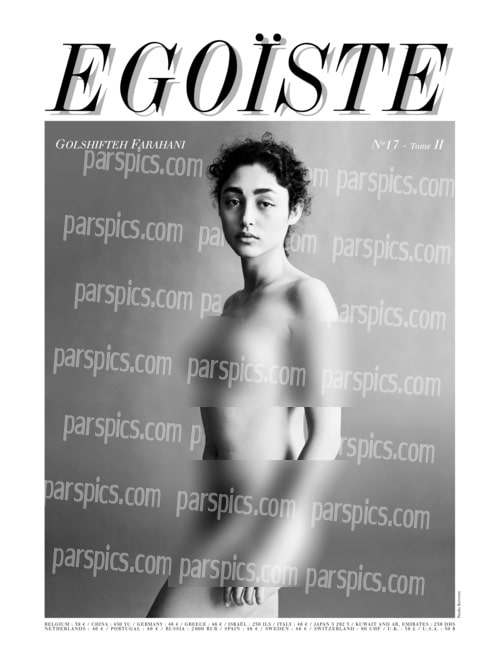 Noted Iranian actress, Golshifteh Farahani, 31  has caused fissure after new revealing images of her for French magazine Egoiste made their way on newsstands.
As photoed by famed photographer Paolo Roversi on the journal's front cover sans clothes, the actress has risked literally having herself killed by extremists in her homeland who along with government officials have deemed her pictures as 'disgusting.'
The latest umbrage comes after a similar feat in 2012 in which Farahani appeared in risqué promotional video (see below) for the Cesars, the French version of the Academy Awards.
At the time the actress had been nominated for her role in "Si Tu Meurs, Je Te Tue" (If You Die, I'll Kill You)along with having posed at the time in risque images for French magazine Madame Figaro.
That video led to the actress being banned from her homeland along with the threat of having her breasts chopped off by Islamic extremists who claimed that the actress had usurped cultural norms and the practice of woman being eschewed from showing their body in public.
Reported The Guardian at the time, 'the actress would be punished, that her breasts would be cut off and presented [to her father] on a plate.'
Responded the actress: 'I was told by a Ministry of Culture and Islamic Guide official that Iran does not need any actors or artists. You may offer your artistic services somewhere else.'
The fracas would leave her father traumatized and checking into hospital.
The 2012 skirmish would precede a 2008 incident in which vocativ reports the the Iranian government confiscated the actress' passport after she was photographed not wearing a veil at a New York public film premiere.
Now living in Paris with her husband, the actresses latest act of perceived rebellion has provoked questions of Farahani 's imminent safety.
Since appearing in the Egoiste spread, the actress has since told the French 20 minutes journal: 'France has liberated me. [Paris] is the only place in the world where women do not feel guilty.
'In the East, you are that [guilty] all the time. As soon as you feel your first sexual impulses.'
Adding: 'For the first time in my life I appreciated being a woman. Paris is a city that liberates you as a woman from all your sins that you think you are guilty of, it washes away all of that and you are free.'
Farahani is considered Iran's most famous actress after being the first woman from the country to star in a Hollywood blockbuster film.
The UK's dailymail notes that the actress recently starred alongside Oscar winner Christian Bale in Ridley Scott's epic 'Exodus: Gods and Kings'. 
In the 2012 road-trip movie 'Just Like a Woman',  Farahani played a fugitive accused of her mother-in-law's death alongside Sienna Miller whose character had aspirations of winning a belly dancing competition.
The threat of retaliation against Farahani comes at a time where 'Iran has seen a rise in policies which infringe the most basic rights of Iranian women' since the current President took power in 2013, according to International Campaign for Human Rights in Iran.
That said not everyone agrees with the methods the actress has chosen in her aspirations to support the rights of Iranian women.
Kamal Nawash from the Free Muslims Coalition said: 'In addition to degrading and objectifying women, posing naked may actually be counterproductive to supporting women's rights.
'Those opposing equality for women, will just point to the naked women and argue to the parents of the nation that it is their traditional values that prevent their daughters from being degraded and objectified as women.' 
The official Tehran-based news agency has described her as the 'hidden, disgusting face of cinema'.
And then there was this contemplation via the iranian that also made me wonder:
Don't take this the wrong way, I fully respect her decision to use her body anyway she chooses to but she has most likely done that for her own fame and capitalizing on future gains. Also, I have no doubt that the primary motive for the Le Figaro magazine to publish her naked picture is the expectation of pecuniary gains from imminent surge in its circulation. No magazine would have been willing to put her photo on its cover had she been an ugly and older fat lady. And, let's ask hypothetically, what if she decides next to star in a porn movie? Should we still surmise that she has done it for the sake of women of Iran or making an artistic or political statement?
A representative for Farahani is said not to have respond to request for further media comment, whilst the Iranian government is yet to have officially response to her photo shoot. Can you guess why?