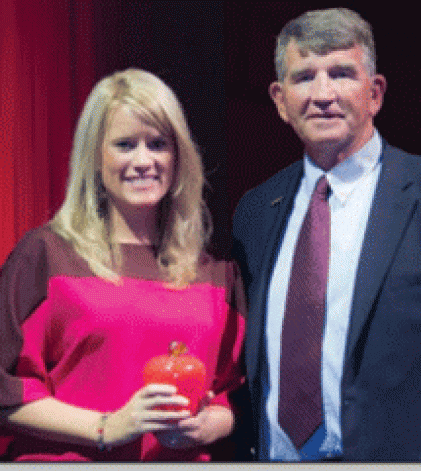 Darcy M Smith, 41 a former 2012 teacher of the year at Washington State's Highline School District is facing 3 charges of child rape following allegations that she sexually abused a 14 year old male student.
The accusations state that the woman had sex with the victim when he was 14 and living with her, her husband and her children at their home in Renton.
The alleged victim, who is now 19 years old, first reported the allegations to the King County Sheriff's Office last May.
Smith has been on administrative leave since August, when Highline School District, was informed of the boy's claims.
According to a report via the seattletimes, the victim told detectives that he and Smith started having sex when he was in the 8th grade and the relationship continued until he moved out of her home at 18.
The boy had moved in with Smith and her family when he was 12 years old and a pupil in her 6th grade class, reports Seattle PI.
After breaking his collarbone, Smith had taken him to the hospital and soon after that he started living at her house which was closer to the doctors than his own home.
The living arrangement had the blessing of the boy's mother who didn't speak English and thought Darcy Smith would be a good influence on her son whose brother was in a gang.
The victim told detective that Smith first showered him with gifts and affection before agreeing to care for him full time, according to charging papers.
But the victim said things would change in the evenings when the kids and Smith's husband went to bed, and she drank wine.
According to the documents, the victim said Smith made him promise not to tell anyone or 'she would go to jail and be in big trouble if he told.' 
The charges come despite Smith receiving a regional Teacher of the Year award in 2012.
Prior to being placed on leave, Smith was widely celebrated for her work with students coming to McMicken with challenging backgrounds. In an essay published in an Office of Superintendent of Public Instruction collection, Smith opined that teachers are required 'not merely to enrich the lives of our students academically.'
'We have a much greater responsibility to the children we teach,' Smith wrote in 2013. 'We do not always know what role we are fulfilling for a child at any given moment, but it is important to remember that we have a moral obligation to fill these roles when we can.'
She has worked for the district since 2001, most recently at McMicken Heights Elementary School.
The assaults are alleged to have begun in September 2008; charging papers suggest Smith was still sexually involved with the boy when she was named teacher of the year for the region in 2012.
Highline Public Schools spokeswoman Catherine Carbone Rogers said parents of children taught by Smith were notified of the investigation earlier this week.
Smith hasn't been jailed and is scheduled to be arraigned next week. The teacher would decline to describe what prompted her to abuse her position of authority and power over the minor…