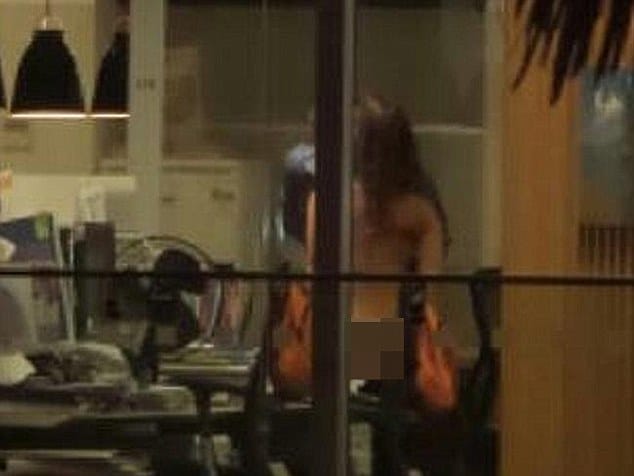 Matters have descended into mayhem for a pair of Christchurch office workers after a video (see below) of them having sex in open view of a bar across the road and consequently filmed have led to the two workers doing the walk of shame and then some…
Since the ensuing video which was made last Friday night, presumably at the end of a 'rigorous work week,'  the office workers have had to combat personal fall out as their very private (illicit) moment has become world tabloid fodder, with revelations that the man seen in the video is married with children whose wife refuses to now speak with him along with reports that the woman with him is engaged to another man.
Christchurch office sex workers no longer working at Marsh. Were they fired?
Christchurch office sex worker husband identified. Sacked and refusing to talk to media
Video: Christchurch office sex caught on camera from bar across the road
Slight pause. What to think, what to wonder? What you may think is your private world is now at a flip of a switch, at one moment's indiscretion the talk of the world. The talk of social media to be correct…
Reports the UK's dailymail: A couple caught having an office romp by a bar full of drinkers are both in serious relationships and failed to show up for work on Tuesday, it has emerged.
The revelation comes by way of the New Zealand Herald which reports that the implicated man is  a senior employee at insurance firm Marsh Ltd  in Christchurch whilst his office lover, in her 20's recently became engaged.
Marsh Ltd would tell the journal that neither employee turned up at work with the insurance company now undergoing an internal investigation considering its options since the fallout and the purported tarnishing of the outlet's reputation.
Marsh would also disclose that the implicated woman has since deleted her Facebook account.
The fiasco comes as a result of revelers who taped the couple's half hour long encounter before ('oh no, did you have to ??!!')  sharing it widely on reddit, facebook and twitter.
Nevertheless the revelers have also come to face their own backlash with some commentators on the web criticizing the group for shaming the couple by choosing to tape and share a video of the pair in the throes of passion, unawares of the circumstances that the workers may have been dealing with.
Other commentators have argued that the couple's privacy had been breached, with some wondering if there was any recourse available to the pair. Do you suppose?
Told one reveler by way of reddit: 'The entire bar united in cheering them on,'
'It started with a casual flirt. Then the kiss, grabbing the attention of all. Get it, son! Finally they moved to the back of them room, thinking they were unseen. Off comes the tights, down goes his head. By this stage, 50 bar patrons were pressed up against the window yelling their approval.
'To be honest, after watching them f*** for a good half hour, people started to get bored and drift off back to the dancefloor.'
Making matters, New Zealand's Privacy Commissioner John Edwards told Radio New Zealand that there was little the pair could do legally.
Whilst the couple's privacy may have arguably been breached (others have countered they were tempting fate by choosing to have sex in plain office view, whilst others wondered if that was in some part the thrill of their illicit engagement, the nonchalance of perhaps being discovered or not?) police have since told it is  unlikely any action will be taken against the pub revelers.
Reiterated John Edwards: 'The people who were watching, we may criticise them for a lapse of decency in taking advantage of that, but it is unlikely there'd be any legal liability for their action.'
Privacy lawyer Kathryn Dalziel also told Radio New Zealand even though the couple did not give their consent for the images to be taken, they would have to show their privacy had been breached to make a successful case under the Crimes Act. 
Marsh Ltd have since told that they had not made any decision on whether the couple would get the sack or face any disciplinary action.
'We are not giving any further comment other than what has already been provided. We're dealing with the matter internally that's all we can say,' a spokeswoman for Marsh Ltd told Daily Mail Australia.
'It's unknown what will happen to those involved at this stage, and what final decision will be made by the firm.' 
At least the couple can be thankful that their names haven't been leaked into the public. Yet.